For some, skiing is all about the mountain and terrain. But for me, a ski vacation is about the experience. I wasn't sure what to expect from skiing in Idaho when I headed out to explore three of the state's ski areas in North Idaho.
During my trip I visiting Schweitzer Mountain Resort, Lookout Pass, and Silver Mountain Resort and learned that each mountain has its own distinct personality and cater to different types of skiers. If you are looking to go skiing in Northern Idaho, let me break each one down with their pros and cons so you can decide which is the best fit for your family.
The short version is:
Silver Mountain Resort: best for families with experience skiing that enjoy a variety of on and off mountain activities such as snow tubing, snow shoeing, and indoor water park.
Schweitzer Mountain: biggest resort with trail options for all levels, amazing views, and great amenities.
Lookout Pass: awesome affordability and no-frills skiing with excellent terrain.
Skiing in Idaho: What to Expect
Note: My trip was hosted by Ski Idaho and Silver Mountain Resort. I received complimentary ski tickets, rentals, lodging, and meals. All opinions are my own.
I visited Idaho as part of a press trip with Ski Idaho (but all opinions are my own.) Ski Idaho represents 18 different resorts, such as Sun Valley, Bogus Basin, Soldier Mountain, and others, covering 18,000 acres and 28,000 vertical feet. For purposes of this trip, we were focused on the resorts in northern Idaho.
Ski Idaho also runs the exciting fifth and sixth-grade passport program. For $29, fifth graders can ski three times at all 17 resorts and sixth graders can ski twice at 17 of the resorts. Quite a deal!
The ski resorts in Idaho range from the famous Sun Valley to the smaller mom-and-pop types mountains like Lookout Pass. There are steeps, trees, backcountry, cat skiing, beginner slopes, terrain parks, and everything in between.
The difference I found from my experiences skiing back east in places is the welcome lack of crowds. Granted, I was skiing on Tuesday through Thursday, but not once did I have to wait in a lift line. Never did someone whiz by me and throw me off my game. I never had trouble finding a line down the trail. And it was no problem at all finding a free table in the lodge.
The people were also so friendly. I didn't encounter any grumpy lifties. The people in the lodges were happy to strike up a conversation. And the locals didn't mind too much clueing you in on some of their favorite runs.
Some of the mountains were even surprisingly affordable. Even getting to Idaho wasn't too hard from the East Coast, just one stop in Seattle or Denver before flying into Spokane. And Spokane has 17 direct flights from California and the Pacific Northwest.
So when you think about a destination ski vacation, put Idaho on your radar.
---
Silver Mountain Resort
At Silver Mountain, what stood out most for me was how ideal the resort is for families. With snow tubing, snow shoeing, a three-mile long gondola, beautifully-appointed village accommodations, and an indoor water park that rivals the likes of the Great Wolf Lodge, what more can you ask for in a ski resort? To me the only drawback is that the terrain at Silver Mountain Resort is better suited to families that already ski than beginners, but more on that later.
Silver Mountain Resort is only about 30 miles from Coeur D'Alene and 70 miles from Spokane Airport. The resort is just off Interstate 90 and very easy to find. Silver Mountain offers both ski and snowboarding over two mountain peaks and 1,600 skiable acres.
There is a total of 2,200 vertical feet and 77 trails, the longest of which is 2.5 miles. Silver Mountain Resort gets over 300 feet of snow a year and offers tree skiing, wide-open groomers, powder snow, and backcountry access.
While there is a snow sports school and magic carpet beginner area, only about 20 percent of the trails are beginner. Silver Mountain is 40 percent intermediate terrain, but some of those intermediate trails have a pretty good pitch so not great for nervous intermediate skiers like me.
The other drawback to the beginner terrain at Silver Mountain is that to get back up the mountain, you need to use a pretty narrow cat track to get over to Lift 5 or Lift 3 (since Lift 5 is often closed during the week.) I found this trail a bit terrifying because even though it was a very mild grade, there is a steep drop off on one side that made me very nervous (and I'm not even scared of heights.) I think this is one thing I just need to get used to when skiing in Idaho.
This is why I think that Silver Mountain is great for families that are skiers — not as much for pure beginners. The exception would be if you come to enjoy the other resort amenities.
Snow Tubing & Snow Shoeing at Silver Mountain Resort
Silver Mountain offers four lanes of snow tubing on weekends and holidays. Tubing sessions last for two hours but don't worry, you won't tire yourself out climbing back up to the top of the hill. The magic carpet will whisk riders and their tubes back up to the top for another fun run.
In addition to tubing, Silver offers a one mile out and back snowshoeing trail. The trail starts at the Mountain House and traverses downhill through a winter wonderland of snow covered trees. When you reach the turnaround point, hike uphill to the Mountain House, where hot chocolate and warm food is available to purchase. snowshoeing trail through the woods. Access to the trail is free with a gondola ticket from the village to the base lodge and snowshoe rentals are available in the Silver Mountain Sports rental shop.
On my last day of skiing, my feet were really hurting so after lunch, I traded out my skis for snowshoes and took to the trail. They provide a trail map (even though the trail is fairly well marked) and an emergency contact number. You just need to register with Ski Patrol before you leave and when you get back so that they can keep track of everyone on the trails.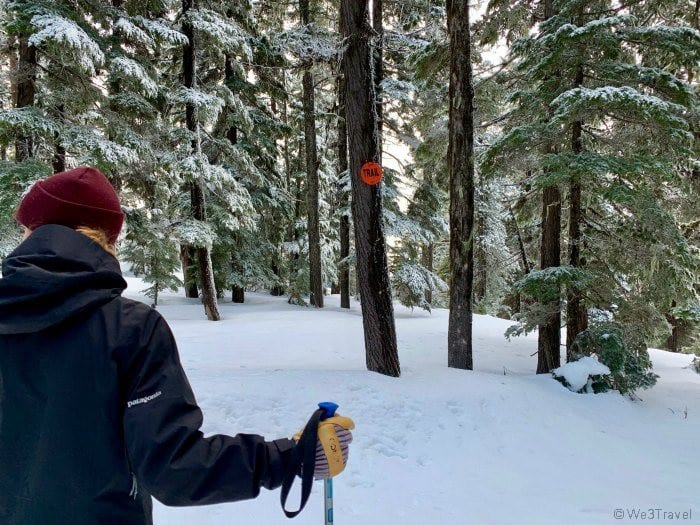 My trek through the woods was beautiful and, while there were some uphill parts, it wasn't too challenging. I did work up a sweat but the hardest part was climbing back up the bunny hill on my return to the lodge.
The views were definitely worth the work. Especially when you get to a beautiful viewpoint overlooking the valley and slopes in the background.
Silver Rapids Water Park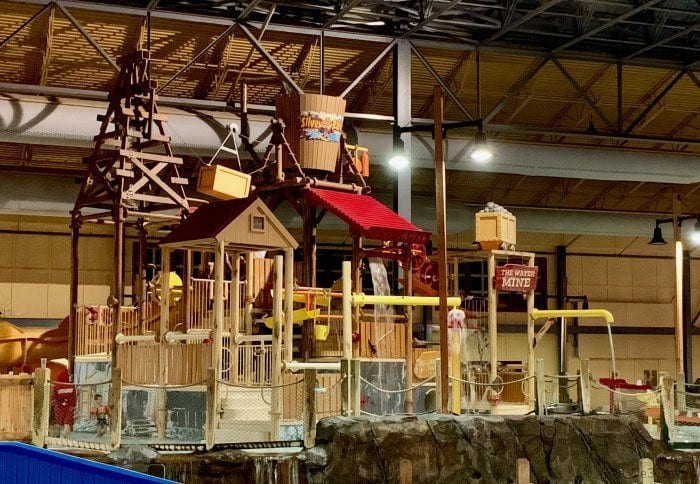 A major highlight of vacationing at Silver Mountain is definitely the Silver Rapids Water Park. The water park is only open for guests of the Morning Star Lodge in the Village. Admission wristbands are included in your stay.
When we visited mid-week, the water park was only open from 4pm to 9pm, making it great for aprés ski. I was really surprised by how large and how many features Silver Rapids offered.
There is an in-park snack bar and two hot tubs, including an upstairs lounge area and cabanas for rent. The non-adventurous can enjoy the North Fork lazy river, Miner's Island with two body slides, play areas, and a giant tipping bucket.
Little ones will enjoy the Pollywog Pond with two kiddie slides and a bungee swing and the Cub Cove spray deck.
Adventure seekers will get their thrills on the Moose Sluice family raft ride and two tube slides. Just keep in mind that these are pretty dark at night! You can give the FlowRider a try and even take surfing lessons.
Kids can even play basketball at the Hoop Lagoon or cross the lily pads at The Crossing.
Family Accommodations at the Morning Star Lodge
Located in the village, steps from the gondola, the Morning Star Lodge offers great accommodations options for families. There are studio, one-bedroom, and two-bedroom suites that are well-appointed and offer the amenities that families need like a full kitchen, washer and dryer, and double sinks in the bathroom with a deep soaking tub.
Each building also offers ski/bike storage, a hot tub, a business center, and plenty of comfy public spaces to hang out.
I was really impressed by the quality of the accommodations. The only drawback was that the walls between suites were thin (I could hear someone clearing their throat next door), so I would make sure to keep noise down, especially during quiet hours. And if you have light sleepers, pack some ear plugs.
The Village
With a location right off the highway, at first glance, Silver Mountain feels more suburban than resort town. The advantage is that you can easily get to local eateries like Hill Street Depot.
Of course, there are dining options right in the Village, including Noah's Canteen and Mountain Cafe. I was also impressed with the table service option at Mogul's Lounge at the Mountain House on the mountain. The food was surprisingly good and fresh for an on-mountain lodge.
While there are other lodging options around, the convenience of staying at the Morning Star Lodge in the Village can't be beat.
The only way to ski Silver Mountain Resort is to take North America's longest gondola ride to the base lodge up the mountain. The three-mile, 20-minute ride saves you from driving up a twisting mountain road and offers up some pretty views along the way.
Silver During the Summer
Fun at Silver Mountain doesn't end in the summer. Silver offers the best lift-served mountain biking in the Pacific Northwest. There are over 35 trails, two lifts, and plenty of new mountain bikes to rent.
In addition to mountain biking, families can enjoy hiking, disc golf, mountain top barbecues, huckleberry picking, wildlife viewing, and scenic gondola and chairlift rides.
If mountain biking isn't your thing, you can also ride the Trail of the Coeur d'Alenes, a 72-mile paved trail with a trailhead in the Silver Mountain parking lot.
I have also heard great things about the Galena Ridge golf course from my golfing friend. And nearby you can engage in fishing, rafting, four-wheeling, tubing, scenic drives, and hikes.
Silver Mountain has everything families are looking for in a four-season resort. See more options for the best family ski resorts in the U.S.
---
Schweitzer Mountain Resort
When you think about big ski resorts, what comes to mind? Large crowds? Long lift lines? When I heard that Schweitzer Mountain Resort is the largest ski area by acreage in Idaho, this is what I expected. But I was wrong. It was actually very approachable and comfortable.
Of the three resorts that I visited, I have to admit that Schweitzer Mountain Resort was my overall favorite. The combination of people, trails, amenities, and the nearby town is just what I look for in a ski destination. And the lack of crowds didn't hurt either.
Schweitzer Mountain Resort is located in North Idaho, about two hours from the Spokane International Airport. I was actually pretty surprised to learn that I'm not the only one from New England to ski Schweitzer. They actually get a good crowd from the Boston area.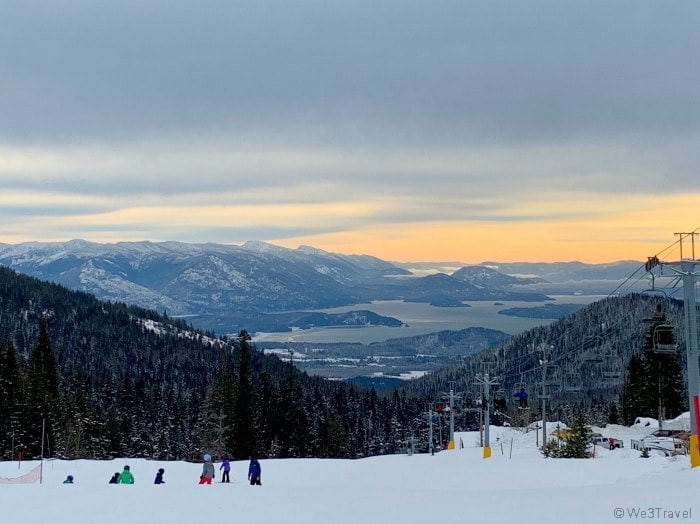 Altogether, Schweitzer has 2,900 acres of skiable terrain and more than 1,200 acres are tree skiing. The summit is at 6,400 feet and offers gorgeous views of Lake Pend Oreille. Actually, one of the nice things about Schweitzer is that you get those pretty views even from the top of the beginner hill, so you don't need to be an expert to experience the beauty of the area.
The only tough thing about the location is that you do need to make your way up to the village, which is at 4,700 feet, and is reached by a winding mountain road that can get pretty slippy when it snows. It is nice to have fairly easy access though to the town of Sandpoint on the lake if you are willing to make the drive.
Sandpoint is a cute mountain town with boutiques, restaurants, coffee shops, a couple of local breweries, and even a winery. And because of the lake, the town is actually busier in the summer than the winter so the businesses can really flourish with year-round visitors.
Skiing at Schweitzer
Schweitzer offers nine lifts covering two open bowls and 92 designated runs. There is everything from an old-fashioned T-bar, to comfortable and fast doubles, triples, quads, and even a 6-pack.
While only 10 percent of the mountain is beginner, 40 percent is intermediate and that gave me plenty of terrain to explore. I wasn't going near the 35 percent that was advanced and 15 percent that are expert. Ski Magazine voted Schweitzer "The Best Kept Secret in North America".
Since it was my first stop in Idaho, and my first time skiing in the West, I knew it would take a little getting used to the differences in snow and elevation. I started off in the beginner area, which you actually ski down from the village and come back up on the Musical Chairs lift. It was a nice easy trail to get my ski legs back and enjoy the view. After a few runs, I was feeling good enough to bypass a lesson and really hit the mountain.
One thing that I really enjoy about a ski resort is when there are mid-mountain options for green and blue terrain so I don't need to go all the way to the top until I feel comfortable. That was the case at Schweitzer so I spent the morning skiing the front Schweitzer Bowl. Everything felt very approachable, not confusing or intimidating, and that really helped put me at ease.
As hard as it is to get out of my comfort zone, I did head up to the Sky House at the summit to meet my group for lunch. I'm glad I did because the views were even more breathtaking from the very top and the snow ghost trees were eerily beautiful.
The Sky House is a great place to warm up and have a meal and beverage. I was impressed with the views, decor, atmosphere, and the menu selections, which ranged from noodle soup to a chimichurri chicken sandwich or racelette potatoes.
Getting down was a little harder. Luckily the connecting trails at Schweitzer were not nearly as narrow as the cat tracks that terrified me on the other mountains. I psyched myself out on one steep section and blew my confidence, then it is all down hill from there (literally.)
Luckily I was able to take my time and make it through. Overall, I was pretty happy with how I did given it was my first time back on skis in over a year, and on a new mountain, different snow, with fellow skiers that were just a wee bit intimidating to me.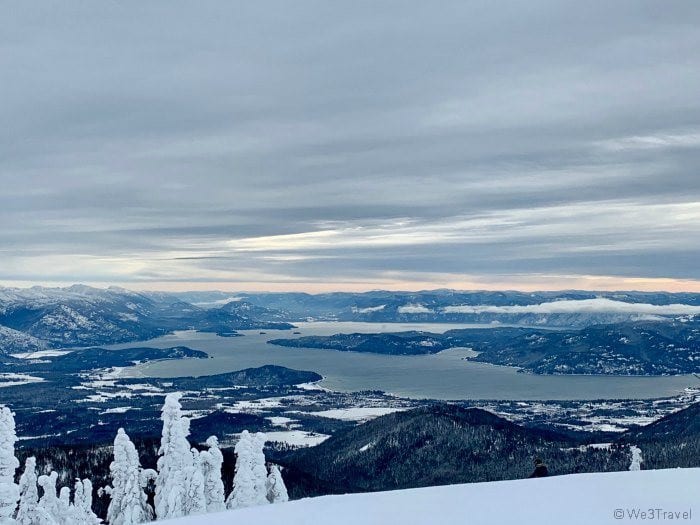 Given how much the other skiers in my group also enjoyed Schweitzer, I feel comfortable recommending it to all skill levels.
WHERE TO STAY AT SCHWEITZER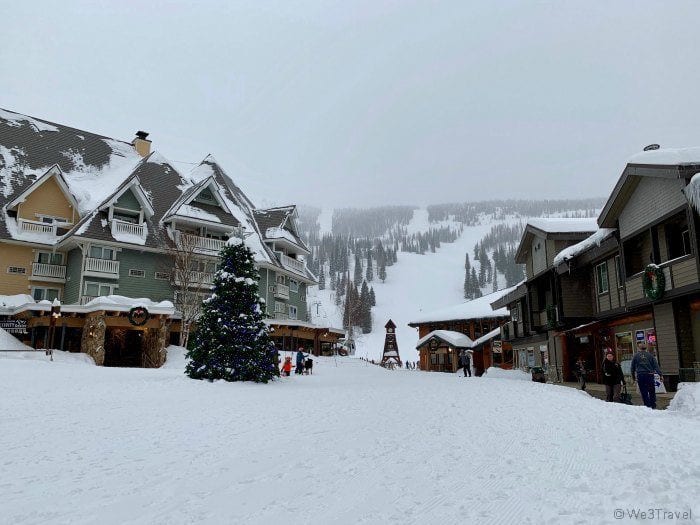 While Schweitzer isn't a sprawling mountain resort, there are still plenty of options for food and accommodations both down in the town of Sandpoint, and in the village. We stayed in the Selkirk Lodge, right at the base of the mountain in the village.
It isn't fancy, and has the feel of a ski in/ski out hotel, but it was comfortable, cute, and very convenient! The room types vary and have options for families, singles, couples, and groups. My double-queen room was quite large with a bit of an odd shape and bathroom configuration (sink and vanity on one side of the door to the room and a separate bathroom with toilet and tub on the other side.)
The lodge has all the amenities you could want though. A heated outdoor pool and two hot tubs in a Nordic Spa-like setting with views of the mountain, dining at the Chimney Rock Grill or Mojo Coyote Cafe, a workout room, a changing room with a shower for refreshing after skiing if you have already checked out, and even a mini-movie theater.
There are also other lodging options in the village including condos at White Pine Lodge and Red Cricket condos, as well as privately-owned mountain homes that you can find on VRBO.
There are certainly plenty of family activities at Schweitzer Mountain Resort too. There is snow tubing on Friday nights and weekends, village campfires, live music, special occasion fireworks, kid's crafts and activities, and even three movies daily in the Selkirk Theater.
For adults that want to unwind, there is a spa, wine tasting events, yoga, and "wind down Wednesdays" with free appetizers and live music from 4-10 pm.
Lake View Lodge is another option for those that want to enjoy a brown bag lunch or take advantage of the food court. Upstairs, you can try a local beer at Taps Lounge. Altogether, there are twelve food and beverage options on the mountain, just be sure to check what is open when.
---
Lookout Pass
If the bar in Cheers was a ski mountain, that mountain would be Lookout Pass. Full of colorful characters, it is a spot for locals to frequent and visitors to observe and enjoy. Located on the border of North Idaho and Montana at Exit 0 on Interstate 90, Lookout Pass ski area gives you that rare opportunity to ski in two different states (and two different time zones) in one day.
While Lookout Pass may not be well known outside of the North Idaho region, I thought it packed a good punch, making it an enjoyable day trip even for visitors spending time at the other resorts in the area. First up, Lookout Pass is known for getting the most snow of any ski resort in Idaho. With that amount of snowfall in the area, it is no wonder if it is the second oldest ski resort in Idaho.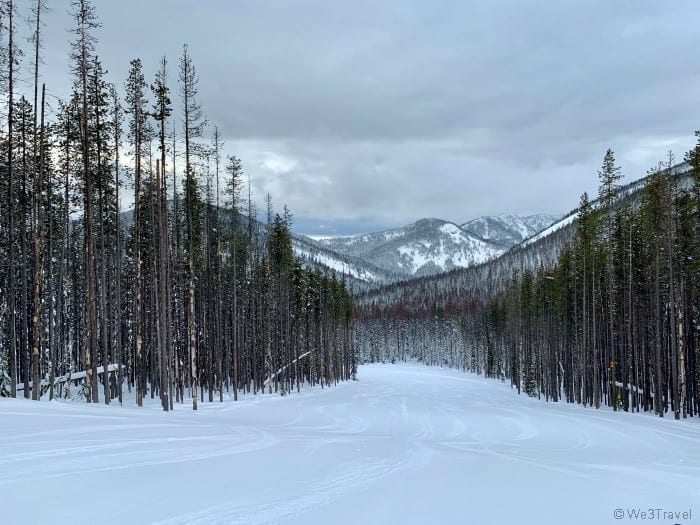 Next, skiing at Lookout Pass is shockingly affordable. Lift tickets range from $55 midweek to $73 on holidays for adults. Of course it is even cheaper for kids, especially those taking advantage of the Ski Idaho Passport.
Skiing at LookOut Pass
If you are looking for super challenging terrain, you may be better off at another mountain. However, since I'm an "advanced beginner" to intermediate skier, I found Lookout Pass right up my alley. Of course, 30 percent of the mountain is rated black diamond or double black diamond and there are plenty of glades and places to scout out powder stashes (just follow one of those locals who know where to go.)
But the expert skiers I was with found the mountain a little mellow. Again, mellow makes me happy. Because then I can ski comfortably and confidently and actually work on my technique instead of focusing my mental energy just on staying in control.
As an advanced beginner, I enjoyed the terrain on the Montana side a bit more. Tamarack and Rainbow Ridge were nice easy blue trails where I could let go and enjoy myself without stress. Especially since, when skiing midweek, I really had those trails to myself and didn't need to worry about people whizzing by me and throwing me off my game.
Cutting back over to the Idaho side on Quicksilver gave me some heart palpitations since it was a narrow cat track with a steep drop off on one unguarded side. There are also definitely some more challenging blues and blacks for those with a bit more skill and daredevil attitude. But for me, I would be happy skiing Tamarack all day long.
Navigating the time zones can be tricky. If you plan a time to meet the rest of your party, make sure you specify if you mean Mountain or Pacific, and know which side of the mountain you are on when you look at your phone as it will automatically switch between the two. Luckily the lodge offers clocks in both time zones to help keep it straight.
SUMMER FUN ON THE ROUTE OF THE HIAWATHA
Skiing doesn't end at Lookout Pass until the end of April, but in the summer the resort serves at the gateway for the Ride the Hiawatha Trail. Ride the Hiawatha is the crown jewel of America's rails-to-trails project.
This all downhill trail is 15 miles one way, with a return shuttle to Lookout Pass. Riders stop at Lookout Pass to pick up trail tickets, as well as rent bikes, helmets, lights, and even trailers or tagalongs for younger kids.
The gentle 1.6% grade is perfect for families that don't want to struggle with hills, but also aren't looking for the thrill of mountain biking.
The Hiawatha trail travels along Loop Creek Canyon within the Bitterroot Mountains. Along the path, riders will go over 7 sky-high trestles and through 10 tunnels — so perhaps not the best for those with a strong fear of heights or of the dark. There is not any lighting in the tunnels (except that literal "light at the end of the tunnel"), so headlamps are required and are to be kept pointed at the ground to light the path.
The path uses the abandoned Milwaukee Railroad grade between the historic old town site of Taft, Montana and the North Fork of the St. Joe River near Avery, Idaho. It has been called one of the most scenic stretches of railroad in the country.
WHERE TO STAY Near Lookout Pass
The best place to stay near Lookout Pass is the nearby town of Wallace, Idaho. This quirky but quaint little town is about 20-minutes (all Interstate) from Lookout Pass. Since this region has produced 25 percent of the world's silver supply, it has a colorful history as a mining town.
Apparently to keep the miners happy, the government looked the other way on many minor infractions to the point that bordellos and gambling were a going concern until 1988 (yup, that's not a typo!) These have earned Wallace the nickname of Lawless Wallace.
Today you can take a mine tour, visit the bordello museum (now there is one for the bucket list), or take your picture at the Center of the Universe. They have declared that since it can't be proven wrong, Wallace, Idaho is the Center of the Universe and there is a manhole cover commemorating this honor.
The town center is a quaint, lost in time sort of place, but you can also find all sorts of restaurants and brew pubs, including the City Limits Brew Pub, which supplies Lookout's home brew, the Loft Honey.
You won't find better hospitality than at the Wallace Inn. Located just off the highway and walkable to the center of town, the Wallace Inn offers an on-site cafe, plus an indoor pool and hot tub for a post ski or riding soak. Run by the self-appointed Prime Minister of Wallace (I told you it was quirky, right?), the Wallace Inn also offers shuttle service to and from the Hiawatha trail and some great ski-and-stay packages.
If you are heading to North Idaho for skiing or biking, make sure you add Lookout Pass to your plans. Even if you split your time between Schweitzer Mountain Resort or Silver Mountain Resort, plan a day at Lookout to enjoy all that fresh snow and the mom and pop, old-timey vibe. And keep your eyes peeled for Cramer, he is a local legend.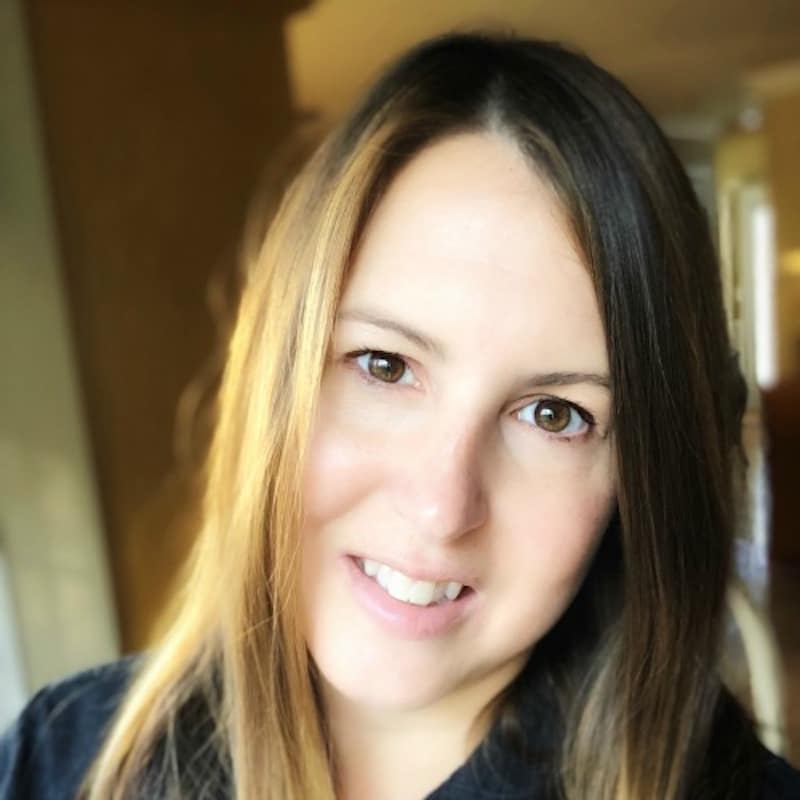 Tamara Gruber is the Founder and Publisher of We3Travel. A former marketing executive and travel advisor, Tamara is an award-winning travel writer and recognized expert in family travel. She is also the publisher of YourTimetoFly and the co-host of the Vacation Mavens travel podcast.