Imagine a place with miles and miles of bike trails, a picturesque town square, affordable yet upscale boutiques, a world-class art museum, and a burgeoning culinary scene and you are picturing Northwest Arkansas. Surprised? So was I.
I was invited to Bentonville, Arkansas to experience its food scene as part of its first Taste and Travel Influencer Summit. I wanted to see if the Bentonville restaurants could meet my foodie expectations. But the food wasn't the only surprise.
It is hard to imagine a place that looks like it was ripped from the set of Gilmore Girls could also have a hipster craft brewery, a happening food truck scene, and a food market that houses a bar with full-size shuffle board courts. How can a town square draped in holiday lights also be framed by buildings covered in stand-out street art?
How does the birthplace of Walmart also have a guitar gallery that hosts drag shows and an event space that is used for record launch parties? Yet this is Bentonville.
Frankly, Walmart has a lot to do with it. They have recognized the need to attract talent with a location that offers an affordable, excellent quality of life that doesn't compromise on career ambition. Between donations and corporate tax revenues, Bentonville has advantages over other regions in building out its tourism efforts.
Now it isn't just Walmart employees and its partners that are drawn to Bentonville and Northwest Arkansas. In fact, over 90,000 visitors came to the region next year for its fantastic mountain biking scene. People come from all over the world to visit Crystal Bridges, a world-acclaimed American art museum.
There is a lot to like about Bentonville, but let's start with the food.
Best Bites at Bentonville Restaurants
There are a dozen restaurants in Downtown Bentonville alone. Add in the 8th Street food market with The Holler and Yeyo's Mexican restaurant and you won't run out of options on your visit.
I want to share my favorite Bentonville restaurants and the best bites that I tried at each.
The Preacher's Son
My overall favorite was The Preacher's Son from Chef Matt Cooper, an actual son of a Methodist preacher. Set in a renovated church, the inside is beautiful and filled with light. Although the stunning painted windows make it very romantic for a date night. Plus, downstairs there is a speakeasy bar for after-dinner drinks.
Because Chef Cooper is suffers from celiac disease, he has created a menu that is healthy and 100 percent gluten free. Yet you would never know that everything is gluten free, including the corn bread.
My favorite dish was the fried artichokes, which they are currently only selling at lunch. I have to say that hands down, these were the best artichokes I have ever had — fried, sautéed, stuffed, or raw. The breading was light and crispy yet full of flavor. The artichokes were tender and lemony and absolutely delicious.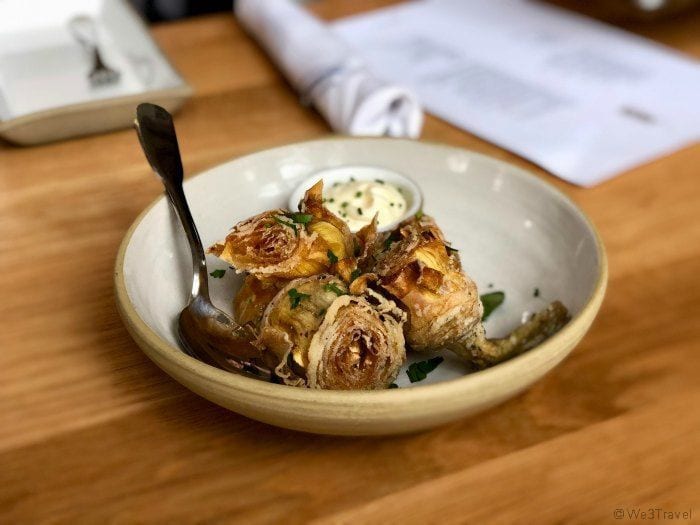 For my main course, I had the brussels sprouts salad. Chef Cooper said he likes to work with local farmers and ranchers and take what they specialize in and make something of it. I think he cleared the field of brussels sprouts with these salads, which seem to have about a pound of brussels in each. The base was creamy, with a bed of gorgonzola. We debated whether or not a salad would be enough without adding a protein, but I could barely finish half.
There are different menus for lunch and dinner so you can always go back for both!
201 NW A Street, Bentonville, AR
Eleven
Eleven is the restaurant in the Crystal Bridges Museum, which opened on November 11, 2011 (hence the name.) Reservations are available for brunch, lunch, and dinner. In addition to the restaurant, Crystal Bridges offers programs that marry the intersection between food and art.
Crystal Bridges also has a coffee shop and "High South" food truck.
The menu at Eleven is fairly limited, with a mix of salads, sandwiches, entrees, and kid's meals. I ordered the Beans and Cornbread, featuring giant scarlet runner beans — something local yet new to me. The chef warned us that it comes with a "mile of cornbread" but it still didn't prepare me for the giant slice of delicious cornbread that needed its own full size dinner plate to serve it on.
600 Museum Way, Bentonville, AR
Oven and Tap
My second favorite Bentonville restaurant was Oven and Tap, the brainchild of Chef Luke Wetzel. Oven & Tap features southern fare with an Italian flare, using locally-sourced ingredients whenever possible.
It is a casual yet modern eatery with an outdoor deck and extensive tap wall. Every bite that I tasted was delicious, and it felt like I tasted everything on the menu — or at least the entire appetizer section.
It is hard to pick just one favorite bite, with options like creamy pimento cheese dip, the crispiest and fluffiest fried mozzarella you have ever tried, and the salt and vinegar brined and then roasted potatoes. Each bite was perfection but the most unique was the wood-fired edamame with rosemary and lemon. I never thought to put those flavors together before but you can bet that I will be trying to recreate this at home.
Oven and Tap is also known for its excellent wood-grilled pizzas and, what some claim is the "best fried chicken in Arkansas." Since I've only visited Arkansas one other time, I can't back up that claim but I can tell you that it is crispy on the outside and soft and juicy on the inside. Plus, the Chef uses boneless chicken for those that hate to mess with the bones.
215 S. Main St., Ste. 3, Bentonville, AR
The Hive at 21c
21c is the museum hotel and restaurant that also kick-started the food scene in Bentonville. The Hive, the restaurant in 21c, is brought to us by Executive Chef Matthew McClure, an Arkansas native that focuses on "high south" cuisine.
The restaurant is open for breakfast, lunch, dinner, and late night. I visited for breakfast but others in our group got to experience it for lunch and dinner. We started off with homemade scones and muffins, accompanied by honey butter. The scone was enough for breakfast but somehow we still moved on. Those that ordered the pancakes got more than their fill with giant, plate-sized fluffy pancakes.
I wanted something unique so I ordered the poached eggs over chorizo grits and beans with pepper relish. The grits seemed to be missing the chorizo but they were nice and creamy but with just enough "grit" and the poached eggs were perfectly cooked.
200 NE A Street, Bentonville, AR
Those were the only restaurants in Bentonville worth noting that I got to try on this trip, but meat lovers should definitely check out Tusk and Trotter from Chef Rob Nelson.
Things to do in Northwest Arkansas
Eating is not the only thing to do in Northwest Arkansas. In fact, this region in the foothills of the Ozarks offers plenty of outdoor adventure and activity options.
Biking in Bentonville
Bentonville offers 40 miles of paved trails and 140 miles of single-track mountain bike trails. The region is Silver-ranked in international mountain biking and people come from all over for the mountain biking.
Even if you aren't that adventurous, the Greenway offers convenient access to paved, primarily-flat trails. You can rent bikes downtown at Phat Tire and easily hop on one of the many trails.
Crystal Bridges Museum of American Art
Crystal Bridges Museum of American Art was founded in 2005 by the Walton Family Foundation. Even today, general admission is free and sponsored by Walmart (although there may be a fee for special exhibits.)
The building was designed by world-renowned architect Moshe Safdie. It takes its name from the nearby Crystal Springs and the bridge construction that was incorporated into the building.
In addition to the main museum, there is a large glass-enclosed function space, the unique "Skyspace", the Bachman-Wilson Frank Lloyd Wright House (extra admission required), and nature trails with a sculpture walk throughout the grounds.
I really enjoyed the breadth and curation of the art collection. But as is true with many art museums, I enjoyed the architecture and design of the building nearly as much as the art inside.
Other Museums
While Crystal Bridges is the main attraction in Bentonville, if you like museums and historic sites, it isn't the only game in town. On the town square in Downtown Bentonville you will find the Walmart Museum.
This is a simple (and free) self-guided museum that tells the history of Sam Walton and the origin and growth story of Walmart. In my opinion, the museum isn't the best but the old-fashioned ice cream shop up front is worth visiting and then you can take a quick run through the museum.
If you enjoy learning about Native American culture, like I do, also plan a stop at the Museum of Native American History. It is a small museum with a lot of artifacts including arrowheads, headdresses, beadwork, and more. Outside, kids can dig in the big tipi to look for arrowheads (which they can keep if they want!)
Despite the giant Walmart bumping up against the property, Bentonville has managed to preserve the historic Peel Mansion for visitors and special events to enjoy. You can take your time to explore this 1875 mansion and even pop into the small two-room log cabin out front.
As I mentioned before, 21c is more than just a hotel and restaurant. It is also an art museum. There are 12,000 square feet of museum space to explore, with permanent and temporary exhibits. And best of all, it is also free!
Shopping in Downtown Bentonville
My credit card company thanks me that I discovered so many cute boutiques in Bentonville. Although maybe not too much because they were mostly pretty affordable.
Label did the most damage to my credit card, offering both well-known designer labels and lesser known fashions that are young and hip (some a little too young for me.) I loved the casual comfort of Blue Moon, which is part gift shop, part boutique.
Elysian had cute, comfortable clothes and very friendly staff. And Remedy Road lets you shop with a purpose, featuring brands that are creating jobs for the poor and fighting hunger.
Where to Stay in Bentonville
If you want to stay downtown, then 21c is the best choice. However, I stayed a bit further out on the main road at the Doubletree Bentonville. I had a one-bedroom suite that was very spacious, with a separate living room and bedroom.
The staff was friendly and rooms were clean and comfortable. The only drawback is that if you have a room that faces the road, it can be a bit loud with traffic. I popped in my Bose Sleepbuds and I was good but you may otherwise want to request a room facing the back.
There is also a Four Points Sheraton right next door and a few other chain hotels in the area.
Note: My trip was hosted by Visit Bentonville. All opinions are my own.
PIN THIS FOR LATER