As states here in the US tiptoe towards reopening (or plunge ahead depend on where you live), everyone is seeking a little relief from the last few months of stress, fear, and uncertainty. We all crave a return to normalcy and a vacation is how we have escaped from reality in the past — putting our day-to-day life behind for a few days of escapism. Unfortunately, this virus isn't going away anytime soon and so the question of where to go this summer is being tossed around like a ping pong ball.
Whether or not to travel this summer adds yet another topic to our raging cultural wars. I'm not going to tell you to book a flight, but I'm also not going to tell you to stay at home. Those are decisions for you to make depending on your overall health, financial situation, and risk tolerance.
What I can do is tell you what I've learned based on scouring news articles, talking with destinations and hoteliers, and looking at tourism surveys and data. I'll give you some suggestions on the types of vacations to consider, where to get more information, how to travel as safely as possible, and some destinations that I would recommend.
Just remember that you need to make your own decisions and do your own due diligence. Don't believe ANYONE that tells you, "I just came back and everything is FINE." Everything is not fine. Cases may be trending downward, testing may be abundant in that area, hospitals may be prepared, and businesses may be open. That doesn't mean everything is fine. I dream of the day when everything is "fine" again.
Deciding where to go this Summer
There are more than the usual factors to keep in mind when deciding where to go this summer. A few include:
Is that destination welcoming visitors? Many states including Maine, New Hampshire, Vermont, Massachusetts, Rhode Island, Connecticut and Hawaii currently have mandatory 14-day quarantines in place for visitors coming from out of state. Maine has announced that they expect that to continue through the summer. So yeah, New England and Hawaii are closed to visitors for the near term.
Not all visitors are welcome. Florida doesn't want visitors from New York, New Jersey, and Connecticut. In fact, they are likely to stop you at the border and tell you to quarantine. Texas has similar restrictions for various areas that have been designated at "hot spots."
Rules vary from region to region within a state. To make it even more confusing, not all parts of a state have the same rules. The Bay Area has different rules and reopening plans than LA County. The Lake Tahoe region wants you to stay away for now. The Florida Keys have reopened but will require face coverings and hotels are limited to a 50 percent capacity. Beaches in Miami may be closed but open elsewhere. The Outer Banks may have a different timetable than other parts of North Carolina. You get my drift?
Check the reopening plan. For whichever region you have in mind, Google their reopening plan to get the up-to-date details. For example, in our state we have a full website on ReopeningRI.com with details on restrictions and rules for different types of businesses.
What does reopening really mean? Are restaurants open for indoor dining, outdoor dining, or just take out? Are face coverings and reservations required to eat out? Are beaches and parks open? To what extent — are the bathrooms open, are there lifeguards, are there capacity limitations, are face coverings required? Know before you go.
How "safe" is a destination? Is there extensive community spread? Are the cases on the upswing or downward trend? What is the percentage of positive tests (under 10% is best depending on the level of testing being done)? What is the hospital capacity (e.g. as of this writing certain hospitals in Alabama have reached capacity)? One way to find this information is on the state's department of health website. For example, our state has a dashboard that shows number of tests, cases, deaths, hospital beds, ICU patients, patients on a ventilator, and a city-by-city breakdown. These charts from the New York Times are also helpful visuals with breakdowns by state and county in terms of infections per capita.
Where would you stay? If staying in a hotel, vacation rental, or even a campground, you want to know the policies around cleaning, social distancing, and capacity.
How are you going to get there? Air travel is certainly changing with new procedures for TSA and new rules from most airlines. Some may be doing more than others to promote social distancing (like Alaska and JetBlue – at least for a while – blocking out middle seats.) But we all know that being inside for lengths of time in close proximity to others is not the safest environment. Air travel is still possible, but do you want to? RV rentals are certainly seeing a surge and it will be the summer of the American road trip. But even still you need to keep in mind where you stop (use restrooms with a lot of airflow vs. small, infrequently cleaned gas station rest rooms), how you are going to eat (bring your own food if possible or do take out and eat outside.)
What is your back up plan? What happens if you get sick and need to shelter in place until you are symptom free? Can you afford that (both time and money)? Is quality healthcare with plentiful room available nearby? Will there be someone to care for your children? What about if you get home and need to quarantine or you get sick, is your fridge stocked and plans in place?
Yeah. There is a lot of ugly stuff to think about way beyond just where to go and what do we do when we get there. It is why many people are putting travel plans on hold. Look, I'm a travel blogger. My business relies on people researching travel information. But I have to be honest, these are tough choices. My feet are itching to hit the road, but my heart is holding me back, at least for now.
What Types of Trips Should you Plan?
My friend Tim from Cheapest Destinations Blog offers some tips around traveling safely this summer and it is completely in line with my thinking.
Personally, I can't imagine getting on a cruise or planning a trip to a theme park right now. The types of trips we are thinking about for this summer are ones with minimal interaction with others and decreased risk. These include:
RV trips. How great is it to be able to road trip without even needing to stop and use a public restroom? You don't need to buy one, here are some tips for renting an RV. Also my friend Bryanna from Crazy Family Adventure has spent six years living in an RV full-time and has plenty of RV travel tips to offer.
Camping or glamping. Boondocking or packing in and packing out are the best ways to really get off the grid and social distance. However, if you are a camping novice, campgrounds can be a good option if you take basic precautions when using common areas like shower houses, bathrooms, and play areas. Some campgrounds like KOA also offer cabins to rent (we tried this at the Mystic KOA) while others like Under Canvas are all about glamping tents (we tried this at Mount Rushmore.)
Vacation rentals. Beach houses, cabins by a lake, a mountain condo — self-contained units that include a kitchen, living space, outdoor space and room to spread out are ideal. Usually when on vacation I hate to cook and look forward to eating out every day. But this year it may be smarter to prepare most meals and just do take out or outdoor dining occasionally. Be sure to pack a cooler, reusable water bottles, paper products, ingredients for basic meals, and some condiments. You may want to throw in a few bottles of your favorite beverage too — after all, it is vacation. Before you rent, just make sure you understand the cleaning procedures. Even better if you can have a few days in between previous renters.
Inns and bed and breakfasts. If you are looking for remote locations, you are more likely to find a privately-owned inn than a mega-resort. And that is ok because who wants to be around hundreds or thousands of other people right now. These innkeepers have their livelihood on the line and will take every precaution to keep things safe. I would definitely inquire about cleanliness policies, and consider skipping daily room service. But I've heard of inn keepers going above and beyond to create individual breakfasts, assign breakfast times, and doing everything possible to minimize contact with staff and other guests.
Boats. You can charter a sailboat or yacht if you have the means, just make sure you understand what staff testing and quarantine policies are in place. I know some families are also considering renting a houseboat as well where you don't have to have contact with anyone else (this is very popular at Lake Meade for example.)
Dude Ranch. I think dude ranch vacations are the ultimate way for a family to unplug. Yes there are things like community dinners, but I would check with the Dude Ranch Association to see what preventative measures are being taken to see if they can find a fit for your family. With your own cabin and plenty of space, if you use good hygiene on shared equipment and they space out families for dining, this classic vacation can still be a lot of fun.
Where to go in Summer 2020
Now that we have covered all the things you need to think about when deciding if and where to take a vacation this summer, along with some ideas of the types of "lower-risk" trips, let's get into where to go summer 2020. This list is by no means comprehensive but wanted to offer some suggestions based on the criteria above.
Remember that much of California is still on a tight lockdown, as well as parts of Oregon and Washington. New England is reopening internally but still has mandatory quarantines in place. New York is starting to reopen and I'm keeping my eye on the Finger Lakes and Lake Placid regions to see how things develop.
Idaho
Idaho had an initial virus hot spot in Sun Valley back in March, but has since flattened their curve and is lifting its mandatory 14-day quarantine. With so many beautiful places to social distance, it may be time to explore the Gem State.
There is plenty to do in Idaho, from the gorgeous Sawtooth Mountains, plentiful hot springs, Craters of the Moon National Monument, and the super-fun Route of the Hiawatha scenic bike trail.
Idaho's ski resorts offer tons of summer fun as well. Bogus Basin is building a brand-new bike park, Brundage Mountain is creating new XC and downhill mountain bike trails, Kelly Canyon is adding its first-ever onsite lodging and celebrating its new bike park's first full summer season, and Lookout Pass, which has operated the Route of the Hiawatha for 20 years, will offer scenic chairlift rides and lift-served mountain biking on site for the first time.
Silver Mountain is celebrating the grand opening of its new, less-expensive lodging option, the Silver Inn (note that due to COVID-19 concerns, the resort is limiting waterpark access to Silver Mountain lodging guests only.) Voted Best in the Northwest in the MTBparks.com Riders' Choice Awards, Silver Mountain Bike Park maintains almost 40 single track trails that span 3,300 vertical feet. This year the resort has rerouted some trails to improve flow and added some bigger berms and jumps on the advanced trails.
Biking season at Schweitzer Mountain Resort in North Idaho near Sandpoint begins June 26, with 40 miles of mountain bike trails, and it also offers a 2-hour hosted E-bike tour daily. Guests can also take side-by-side rides on dual, 700-foot zip lines, play disc golf on its 18-hole course, and enjoy scenic chairlift rides on the Great Escape Quad to the summit. Other summer activities include hiking and trail running, geocaching, bungee trampolines, a 25-foot climbing wall, gold panning, huckleberry picking, and horseback riding.
Montana
The number of cases in Montana has remained low and they are lifting their mandatory 14-day quarantine. Soon the Montana entrances to Yellowstone will reopen and visitors will be able to access the entire park. I love Yellowstone with kids, especially all the wildlife, and there are plenty of places to social distance but it is going to be hard to see the highlights like the Grand Prismatic Spring without crowds.
Glacier National Park is also going to draw some crowds, but there is plenty to explore outside of the park. Glacier Country and Flathead Lake offer hiking, mountain biking, river rafting, kayaking, boating, and wildlife watching — plus great craft breweries and local food in the small towns of Whitefish and Kalispell.
In Southeast Montana you can go horseback riding, search for dinosaur fossils, drive the scenic Beartooth Parkway, learn about the Battle of Little Big Horn, and look at 2,000 year-old pictographs. Meanwhile Southwest Montana will show you ghost towns, gold mines, and hot springs.
Alaska
If you are willing to get on a plane to get to Alaska (the Canadian Border is closed and cruises are cancelled for the season), you will have plenty of space to explore. And with no cruise passengers, you will have even fewer people to compete with.
From Anchorage you can take a road trip to Talkeetna and Denali National Park. Also visit Seward and Homer before heading back to Anchorage.
Wyoming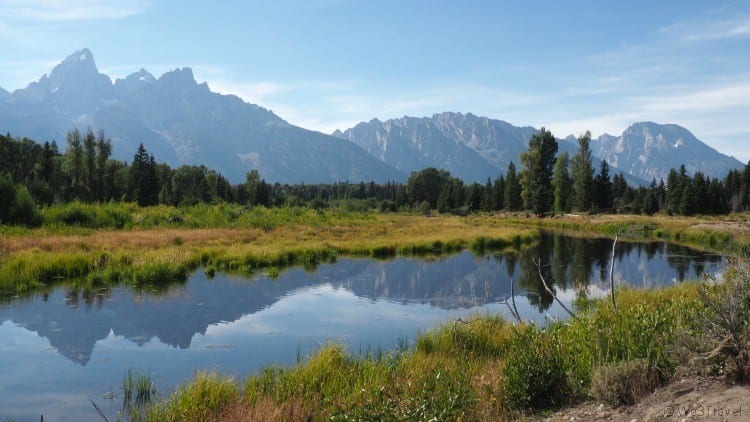 It is no surprise that as the second least densely populated state that Wyoming has a low number of cases. Wyoming is a great spot of hiking, fishing, mountain biking, and star gazing. And while rodeos may be cancelled this year, you can still learn about cowboy culture.
Of course Wyoming is also home to the southern section of Yellowstone National Park and our favorite, Grand Teton National Park (see our list of things to do in Grand Teton.) Some of the hotels within Grand Teton National Park will be closed this summer, but you can still camp or stay just outside of the park. The town of Jackson is charming and filled with great restaurants, galleries, and shops.
North Dakota
Road tripping across North Dakota brings you past so many fun roadside attractions, like Salem Sue (a giant cow statue), Dakota Thunder (the world's largest buffalo statue), and the Enchanted Highway (30 miles of giant metal sculptures). I would then plan on spending a few days in Western North Dakota near Theodore Roosevelt National Park.
Named after the founder of the National Parks, TRNP offers a bit of everything — plentiful wildlife (bison, wild horses, prairie dogs, elk and more), beautiful landscape of the ND badlands, hiking, and history — but very few people. The town of Medora outside of TRNP is a quaint little western town full of spirit and charm.
There are also plenty of places in North Dakota to social distance, especially up on Devil's Lake if you love to fish!
South Dakota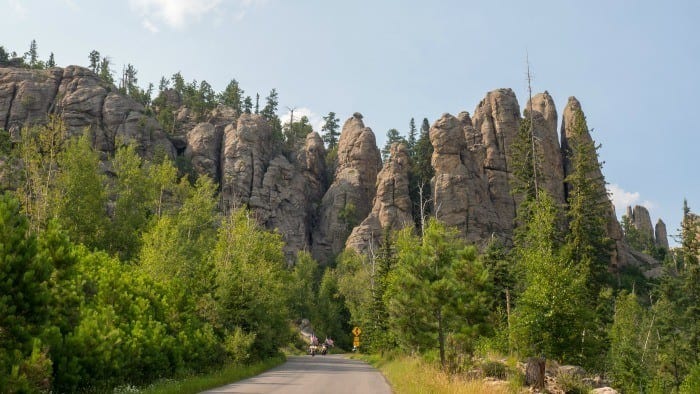 South Dakota has gotten a bit of attention recently because of outbreaks in meat packing plants, but if you stick to the western part of the state, the case numbers are much lower. You can easily combine North Dakota and South Dakota, or just plan to spend a week in the Black Hills and Badlands.
In the Black Hills you can camp or rent a cabin in Custer State Park. There is plenty to do in the park including kayaking, biking, horseback riding, rock climbing, and so many scenic drives. Of course nearby you also have Mount Rushmore and Crazy Horse Memorial. You will need at least a day to visit Badlands National Park, and I would also recommend a stop at the Minuteman Missile Silo historical site to learn about the Cold War and some near misses we never heard about.
West Virginia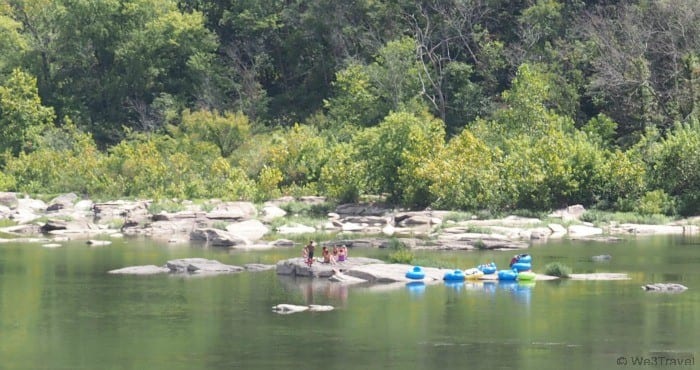 West Virginia was the last place hit by this virus, and the case numbers are still low. The state has lifted its quarantine requirements and begun reopening (check the state website for specifics.) West Virginia is a perfect place to get outside, with plenty of opportunities for camping, hiking (even along part of the Appalachian Trail), biking, rock climbing, and white water rafting.
And of course, there are plenty of "country roads" for scenic drives to small mountain towns and historic sites like Harpers Ferry.
Iceland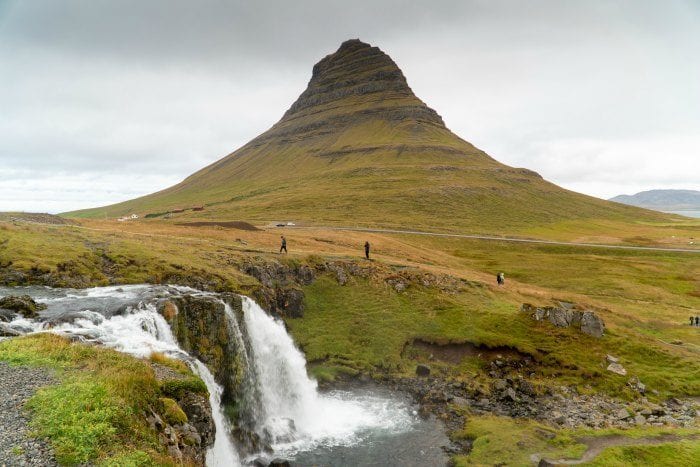 If you do still want to travel internationally (note that the CDC hasn't yet lifted their Level 4 travel advisory against non-essential travel), some countries in Europe are reopening, although only some will be accepting visitors from the U.S. However, Iceland has absolutely squashed their curve and has done extensive testing in the country. They will be reopening to U.S. visitors this summer — but with some guidelines.
Visitors will either need to get tested on arrival (and if positive quarantine for 14 days) or have been tested right before they leave for a trip. So if you live in an area where testing without symptoms is possible, this could be an option. The way I look at it, the flight to Iceland is short (from the east coast at least) and it is very easy to social distance. Keep in mind that your state may require you to self-quarantine for 14 days upon return.
If you do want to book a trip to Iceland between now and 2022, my tour partner Hidden Iceland is offering 30 percent off all tours booked by June 30, 2020 for travel though December 2022 with flexible date changes using my promo code WE3TRAVELLATER.
Safe Travel Tips
My friend Leslie from Trips with Tykes also offered some tips for traveling safely and responsibly, many of which I will echo as common sense precautions should be repeated. In addition to all the considerations that go into choosing if and where to go, here are some extra things to think about:
Bring along plenty of sanitizer, sanitizing wipes, and some extra toilet paper as you don't know what you are going to encounter on the road.
Wear face coverings whenever required and when you can't social distance with people outside of your party. I know it is hot and uncomfortable. I hate it too, but we need to protect each other.
Turn washing your hands into a game — sing songs, give stickers, set timers, whatever it takes to remember to wash hands regularly.
Lose points when you touch your face — let the kids school you and hit a buzzer or make you pay a nickel every time you touch your face as a reminder to them to be aware that touching your face is not good!
Make one family member responsible for going into stores, restaurants, gas stations, etc. — no need to expose the whole family unless it is needed (like to use the restroom).
Pack a first aid kit including: a thermometer, Tylenol, cough or cold medicine, tissues, Zinc, Emergen-C or other immune boosters, vapor rub, wall plug-in vaporizer, throat lozenges, essential oils, and probiotics.
Consider taking probiotics and immune boosting supplements before you leave.
Bring extra masks, especially if you don't have access to laundry. Or bring along one of those UV sanitizing pods (let's hope they work!)
Don't forget your health insurance cards!
As I said, I'm not advocating that you travel, but if you do travel, do so safely. We are still deciding on what our summer plans will be (and I still need to cancel our Greece trip in July), but we will likely embark on some type of road trip in August.
If you are planning a summer vacation, I would love to hear where you are going and how it went in the comments below!
SAVE THIS TO PINTEREST