If you've seen some of my recent posts about lighthouse sightseeing cruises, you may think I have a bit of a thing for lighthouses — and you are right. I'm not sure where it came from. Maybe from living on the East Coast for all my life, with its plentitude of lighthouses. Or maybe from an early version of Pete's Dragon or other childhood novel. Whatever it is, their picturesque quality and grand imagining of the life of a lighthouse keeper have fascinated many. I'm certainly not the only one to have a wish to sleep in a lighthouse. And nowadays, it isn't too hard to make that dream come true with different lighthouse hotels or lighthouse B&B options popping up as decommissioned lighthouses find a second life.
After dropping Hannah off at sleep away camp this year, Glenn and I made a quick romantic escape to the Saybrook Inn and Spa in Old Saybrook, Connecticut, about halfway between New York and Boston on the Connecticut coastline. While we have stayed at the Inn before for its Fire & Ice Festival in the winter, this time we were there to experience the hotel's new Lighthouse Suite, and yes, fulfill that fantasy of sleeping in a lighthouse.
While there are a few historic lighthouses in the area, like Saybrook Breakwater Light and Lynde Point Light, this one is more recently created as an outpost to the resort's marina. So don't have any grand ideas of climbing spiral staircases or laying in bed watching the light strobe across the walls, but it was charming nonetheless and a perfect romantic getaway destination.
Sleep in at Lighthouse at Saybrook Point's Lighthouse Suite
Saybrook Point Inn and Spa also includes a marina, vacation rental condominiums and two spectacular guests houses. After checking in at the main desk, we were escorted out to the marina and our Lighthouse Suite. Located on the outermost dock, this little lighthouse adds New England charm to this busy marina. While plenty of boats were at dock, there wasn't any noise to disturb our sleep except the slap of the waves against the docks and the morning bustle of boats getting gas.
Stepping into our suite, we were immediately charmed by the elegant nautical decor and the novelty of having our own space away from the hotel, yet with access to all of its many amenities. The main living space offered a desk, couch and chairs, along with a small dining table and simple kitchen.
Just off the dining area, we found our cozy bedroom. While the room itself was tight and simply decorated, we really wanted to spend the majority of our time in the main living space. And off the kitchen was a small bathroom. Again, big enough but not spacious.
My favorite place to spend time was on the small back deck overlooking the water. If you go, be sure to bring a bottle of wine (or order one brought out), because it is the perfect spot to relax with a glass of wine and watch the boats or the swans swim by.
It was also the PERFECT spot to view the sunrise. Now I am NOT a morning person. At all. But when our bellman told us about the gorgeous sunrises with unobstructed views that we could see from this spot, I knew it was worth setting an alarm. After all, all I had to do was stumble out of bed in my PJs, grab my camera and step out the door. What do you think, was it worth it?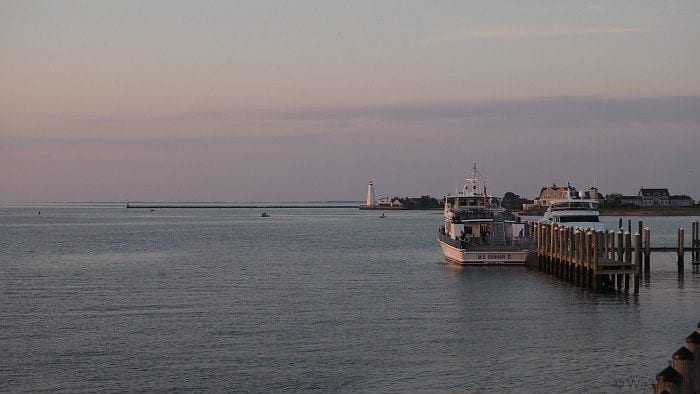 Saybrook Point Inn Rooms and Suites
Altogether, the Saybrook Point Inn and Spa offers 103 rooms, over 30 of which offer wood-burning fireplaces. All of the rooms are spacious and luxuriously decorated. Surprising for a small, family-run hotel, the Inn is also Connecticut's first green hotel. Their initiatives span across the operations from a kitchen herb garden to Green Seal cleaning products, a natural gas co-generation plant, rainwater collection, solar panels, clean cooling systems, and four electric car charging stations, free of charge! The hotel also offers complimentary loaner bikes for guests to explore the area.
In addition to the main hotel and the Lighthouse Suite, the Saybrook Inn also has short and long-term vacation rental condos and two amazing guest houses. These guest houses, Tall Tales and Three Stories, can be rented out in their entirety for larger groups, reunions, and corporate retreats, or rooms can be booked individually. Each home is modeled in a Victorian style and painted in fanciful colors, reminding me a lot of Cape May, New Jersey.
Stepping inside you do feel like you have just walked into an upscale beach home, with comfortable and stylish furnishings in the common areas. Downstairs you will find a living room, dining room and kitchen, with bedrooms upstairs, much like staying in a bed and breakfast. Tall Tales also features a bar and pool table on the second floor (by the way, there is an elevator so you don't need to lug bags up the stairs.) Each room is unique and some are themed, such as the elegant Katherine Hepburn, who grew up nearby.
All guests, include marina guests, have full access to all the hotel's many amenities.
Saybrook Point Inn and Spa Amenities
On this trip, we were able to take advantage of the Saybrook Inn's outdoor pools. Both indoor and outdoor pools are heated and salt-water, but not too large so if you are there on a busy weekend, you'll want to stake your claim on a lounge chair early. The Inn also has a health club with a steam room, sauna and whirlpool, as well as fitness classes. Two of the real stand outs of the hotel are its spa and restaurant, which bring in not just guests, but also locals.
Sanno Spa
The Sanno Spa is nicely equipped for a hotel spa. There is a spacious locker room with all the amenities that you would expect, including a robe and slippers. The small relaxation room features a fireplace, kitchenette with wine/champagne for sale, along with complimentary tea and water, and a little patio garden.
On this trip, we were treated to a couples massage. I still can't decide if I enjoy the couples massage. It sounds so romantic but in the end, I like the quiet and serenity of being on my own. Sort of like a beachside massage…it looks amazing but then you end up with sand rubbed into your oil. What do you think?
Fresh Salt
Connecticut Magazine has named Fresh Salt in its "Top 25 Most Gorgeous & Delicious Outdoor Dining Spots in Connecticut". With large windows overlooking the marina and a stone fireplace in the main dining room, Fresh Salt does its best to maximize its water views while providing a comfortable and cozy atmosphere.
Being foodies, I can't say that the food is amazing, but it is very solid in its preparation and presentation. We started off with a selection of oysters, and I always appreciate a good New England restaurant that can describe the oysters the way you would a fine wine, and offer a selection to choose from. It is surprising to me when I travel in the south or the west and ask about their oysters that I get such a blank stare. They were all delicious, especially the Wellfleets and the local Connecticut oysters.
For my main course, I selected the strip steak with shoestring pomme-frites, charred romaine hearts and Colbert butter. My steak was cooked as requested and the demi-glace and compound butter added a lot of flavor. Had I known the portion size of the accompaniments, I would have also added a couple of side dishes. For dessert, I sampled the Strawberry Shortcake Soup because it sounded so unusual. Unfortunately it tasted more like melted strawberry ice cream than anything more creative, but it was tasty nonetheless. We greatly enjoyed one of our rare "kid-free" meals. The problem with having a kid that is also a foodie is that she always want to tag along!
The hotel also offers a Marina Bar with an outdoor fire pit bar that is perfect year round and that is where we finished our evening.
Location
The Saybrook Point Inn and Spa is located in Old Saybrook, Connecticut, which is equidistant from New York and Boston. It is easy for residents of either city to get to the resort using the Amtrak train. There is a hotel shuttle that will pick guests up from the Old Saybrook Amtrak station and then they are free to use the loaner bikes to explore the town or coastline.
This really is a gem tucked into the Connecticut coast, yet just minutes off of Interstate 95. Nearby, you can explore lighthouses, parks, or the small downtown shopping district of Old Saybrook. A bit further away, you can go for a ride on the Essex Steam Train, explore Mystic Seaport or downtown Mystic, or chance your luck at one of the casinos like Foxwoods. Personally, I think the perfect accompaniment to a stay in a lighthouse would be a lighthouse sightseeing cruise from Cross Sound Ferry in nearby New London, CT.
PIN THIS FOR LATER
Note: Our stay, meal and spa service was hosted by Saybrook Point Inn and Spa for purposes of this review. All opinions are my own.