There are so many things to do in Scottsdale, Arizona that make it a perfect romantic weekend getaway destination — beautiful resorts, wonderful spas, over 800 restaurants, museums, art galleries, shopping, outdoor activities, and even a vibrant wine-growing community. Since our daughter was at an astronomy camp down in Tucson, my husband and I decided to turn this rare time to ourselves into a weekend getaway to Scottsdale.
During our long weekend getaway to Scottsdale in June, we certainly got a full blast of the Arizona sun, with temps up to 108°F (and a higher real-feel temperature.) There were times when I felt as if my flip-flops were melting into the pavement, and I didn't go anywhere without guzzling even more water than usual. But as long as I got air conditioning breaks, we managed it just fine.
Being able to sit outside in the evenings and enjoy the warm air on my skin without worrying about a sweater — now that was nice. And I also appreciate that restaurants and shops don't blast AC to simulate a northeastern winter inside like I often find in Florida.
If you are considering a romantic weekend getaway in Scottsdale, whether it is a stand-alone visit or part of a southwest road trip itinerary, read on. I'll share where to stay in Scottsdale, things to do on a weekend getaway to Scottsdale, and where to eat in downtown Scottsdale.
If you are visiting Scottsdale with your family, be sure to check out these things to do in Scottsdale with kids. Or, check out these other romantic getaways in the US.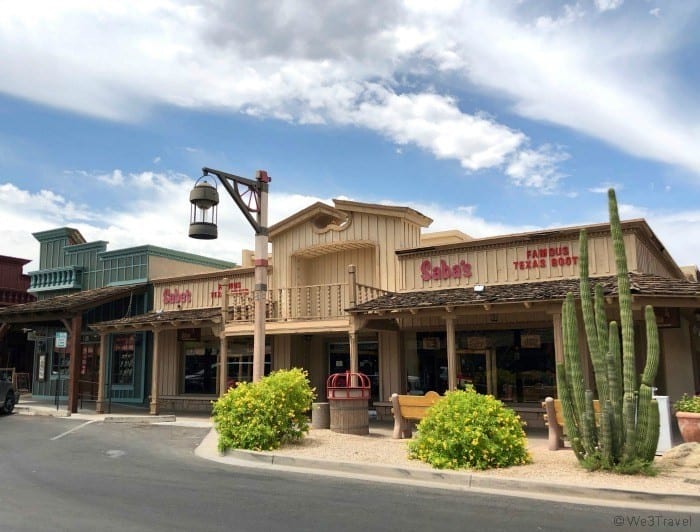 Weekend Getaway to Scottsdale, Arizona
Note: Our visit was hosted by Experience Scottsdale. We received complimentary accommodations, entrance tickets, and some meals. All opinions are my own. This post contains affiliate links. If you click a link and make a purchase, I may receive a small commission.
Where to Stay in Scottsdale
The first step in planning a romantic getaway is figuring out where to stay. Luckily Scottsdale offers a range of options. If you are looking for a resort and spa, we absolutely loved everything about our stay at the Hyatt Regency Scottsdale Resort & Spa at Gainey Ranch. Not only did we get the full resort experience (complete with the welcome cocktail), but I appreciate that it is only a 15-minute drive from downtown.
After coming from Tucson, where many of the resorts are located 30-45 minutes from downtown or other local attractions, this convenience is key because I don't like to only stay on a resort and not leave unless I'm on an island in the middle of nowhere.
If you prefer more of a chic, boutique hotel closer to town, we also spent one night at the hip Hotel Adeline. Two different properties, both with their own charms. Let me break it down for you.
Hyatt Regency Scottsdale Resort & Spa at Gainey Ranch
The Hyatt Regency Scottsdale is truly a resort property. In addition to the hotel's 493 rooms and suites, there is also a 2.5 acre "water playground", four tennis courts, miles of biking and jogging trails, the amazing Spa Avania, Camp Hyatt Kachina kid's club, five different restaurants, and even a Native American Learning Center. Guests can also enjoy 27-holes of championship golf at the award-winning Gainey Ranch Golf Club. The only downside of all this is the possibility of a long walk from the elevator to your room.
My room was very spacious, with a huge balcony large enough for two lounge chairs and space to spare. The view overlooked the pool area without being loud, but still felt private. We were in a King room, which also featured a very large bathroom with a walk-in shower.
I found all the amenities I need to luxuriate in my surroundings including a comfortable plush Hyatt Grand Bed, a very large-screen TV, iPod docking stations (and very conveniently placed USB charging!), and even a refrigerator (if only I had used it to keep my charcuterie board welcome amenity fresh), an in-room safe, and a refrigerator.
The hotel also provided me with a Club Access room, meaning that I was free to make use of the Regency Club, which offers a European-style breakfast, evening hors d'oeuvres & cocktail service, as well as printers, and a convenient place to work if needed.
I really wanted to take the time to explore Scottsdale (more on those recommendations later), so I only spent one evening dining at the hotel. But that experience was fabulous. We headed down to SWB, the hotel's Southwestern restaurant for the "Wine Me Dine Me" chef's tasting dinner. But just because it is Southwestern, don't assume this is casual Mexican fare, it is not at all. However, Chef Juan brings authentic southwestern flavors to all of his dishes.
For the Wine Me, Dine Me experience, you sit at the bar in front of the kitchen so that the sous chef can easily explain each dish and its ingredients. The experience includes a four-course menu, along with a tequila and wine pairing.
We started off with deliciously-prepared lamb chops (and this is from someone that doesn't traditionally eat lamb), followed by a fresh green salad with peeled heirloom tomatoes and fruit. For our entree, we had halibut. Each dish utilized southwestern flavors, including chilis, but none were especially spicy. The ingredients complemented rather than overwhelmed. The entire experience was so enjoyable that I barely remember the desert, except to recall that it had a beautiful presentation and seemed like a fresh take on dulce de leche.
The Hyatt pool is not just one pool, it is actually a series of 10 different pools that together make up the water playground. You can enter the assortment of adult-only pools, which are linked to the family pools through a series of 20 fountains and 45 waterfalls that create a refreshing environment. The family pool features a 30-foot, three-story waterslide, as well as a small sand beach and zero entry pool. There is even a pool set up for an aquatic volleyball game.
All the pools are serviced by the H2Oasis, which offers light fare, beverages, and tropical cocktails. The small shop is perfect for guests that may have forgotten their sunscreen, hat, goggles, coverup, or even swimsuit. My personal favorite feature is the water bottle refilling station, making it affordable to stay hydrated in that intense sun.
Long before I arrived in Scottsdale, friends had told me about their amazing experiences at Spa Avania at the Hyatt. I've seen a lot of great hotel spas, but Spa Avania definitely deserves to be on that list. This is definitely the type of spa where you want to book a treatment (or two or three) and plan on spending the entire day there relaxing.
Spa Avania has 19 treatment rooms, including three for couples, and five garden-side treatment rooms with private entrances. The women's and men's locker rooms both feature relaxation rooms, a steam room, a dry sauna, and outdoor hot and cold plunge pools. Even the showers are a treat, with 10 shower heads for a full-body experience.
Before or after your treatments, you can also enjoy a mineral pool, available to spa guests only, and an outdoor relaxation area. Drinks and food are served outside so you really won't want to leave!
I started off with 30 minutes of relaxation in the Himalayan Salt Room. They provide an iPad and headphones with music or guided meditation to pass the time. This was followed up with a Citrus Drench Wrap, which was a combination of body scrub and wrap, which left my skin glowing and ultra-soft.
Check rates and reviews at the Hyatt Regency Scottsdale Resort & Spa at Gainey Ranch!
Hotel Adeline
Something about this boutique Scottsdale hotel spoke to me, maybe it was the "Wanderers Welcome" sign over the archway into the pool area. Or perhaps it was the Tiffany blue accents in the room and bath products. Either way, the hip, retro vibe would seem as at home on South Beach as it does in the desert.
This 1970s-style renovated motel goes all in on the cool factor to overcome some of the other obvious drawbacks, such as room size and luxury finishings. The main attraction is truly the pool. Lined with cabanas and lounge chairs, it is modern while not feeling like a "scene" (at least not while we were there). They offer both a pool bar and chair service, and there are relaxation areas for chilling out in the evening after the sun goes down.
The rooms at Hotel Adeline are cozy and comfortable, although the bathroom is a bit small for comfort (and I have a pet peeve about sinks located outside of the bathroom.) My favorite thing about Hotel Adeline is the design. The lobby, restaurant, and rooms are all stylish and fun. While I didn't get to eat at the restaurant, I did learn about a secret "guests only" speakeasy/whisky bar — taking the cool factor up another couple of notches.
While the hotel doesn't scream "romantic", it does shout "cool" and if that doesn't appeal to your significant other, save it for a girls' trip instead.
Check rates and reviews at the Hotel Adeline!
Things to do on a Weekend getaway To SCOTTSDALE, ARIZONA
There are plenty of fun ways to have couple time in Scottsdale. As parents, we love doing the kinds of things that are more challenging with kids in tow — like wine tasting, browsing art galleries, enjoying a romantic dinner, and taking long walks outdoors.
Desert Botanical Gardens
There are tons of places to go hiking in the Scottsdale and greater Phoenix area. From easier hikes in the McDowell Sonoran Preserve to the much more challenging Camelback Mountain. You can also take desert jeep tours, segway tours, and hot air balloon rides. However, given the heat, I opted for an easier stroll through the Desert Botanical Gardens. I have visited botanical gardens in Montreal, Pennsylvania, and Wilmington, NC to name a few. But none of those featured a desert landscape.
Sometimes I think of botanical gardens as a place my mom would enjoy (and she would) but that I would be bored at. Either I'm getting older (true), or I have grown to appreciate them more, but I spent a fun hour plus exploring the Desert Botanical Gardens. I think what did it for me was that it is such a vastly different landscape than what I am used to.
I find desert flora and fauna fascinating. But also because it wasn't just plants, I saw quite a few creatures too (but luckily no snakes). I saw rabbits, lizards, ground squirrels, regular squirrels, hummingbirds, doves, quail, and these adorable little creatures that look like mini prairie dogs. From the book I consulted on creatures of the Sonoran desert, the closest I could determine was that it may be a kangaroo rat, but I can't be sure, so I'll stick to thinking of them as mini prairie dogs.
Western Spirit: Scottsdale's Museum of the West
Maybe I was meant to live in the Southwest because I have also always had an interest in Native American culture and art. I expected the Museum of the West to be a historical account of the Southwest, but it really represented southwestern culture through collections of art and memorabilia.
There was the Rennard Strickland Collection of Western Film History, which, through movie posters, really made you think about how our perceptions of Native American culture have been shaped by the movie industry, often quite inaccurately. I really enjoy the art of Joe Beeler, a founding member of the Cowboy Artists of America who helped define western art.
The museum also features exhibits with collections of saddles, belt buckles, spurs, and other cowboy gear. Altogether, it houses a significant amount of western art in a beautiful space that is fun to enjoy.
Scottsdale Museum of Contemporary Art
If you are an art aficionado, the Scottsdale Museum of Contemporary Art is a short but interesting stop in downtown Old Town Scottsdale. I'm a fan of large contemporary exhibits like I found at the Dia: Beacon so I enjoyed the Museum of Contemporary Art. As with the Museum of the West, I also loved the building as much as the exhibit.
Wine Tasting in Scottsdale
Even though the folks at Experience Scottsdale arranged for us to have a wine tasting at Carlson Creek Vineyard, we honestly didn't expect to enjoy the wine. From our experience with other wines in the southwest in Texas and New Mexico, we expected the wines to be on the sweeter side. Not only were the wines excellent, but we both thoroughly enjoyed interacting with the staff and learning the backstory of the winery's owner.
I fully believe that so much of a wine-tasting experience has to do with the atmosphere — the ambiance of the tasting room and the knowledge and personality of the staff. Carlson Creek ticks all of these boxes with a beautiful tasting room and welcoming but very knowledgeable staff. And the excellent wine doesn't hurt! I particularly enjoyed the award-winning Rule of Three, the Sangiovese, and the Chenin Blanc.
Scottsdale's Art Scene
In addition to the Downtown Arts District, featuring hundreds of shops and galleries, Scottsdale also has an impressive collection of public art. The Scottsdale Public Art Program includes a collection of 70 permanent and 30 temporary works of art that are scattered throughout the town. If you are really into it, you can even download an interactive map and plan a self-guided walking tour of the art. Also, be sure to walk along the downtown canal and the Soleri pedestrian bridge.
SHopping in Scottsdale
Of course, walking around Old Town Scottsdale is also fun, although I prefer the shops and galleries along Fifth or Marshall, versus the touristy shops of Old Town. Getting around Scottsdale is also a breeze, as there is ample street parking, free trolley service, and plenty of easy-to-use Lime Bikes around.
Dining in Scottsdale
Of course, one of my favorite things to do in Scottsdale is to sample a few of its many restaurants. I've detailed all my recommendations for our favorite downtown Scottsdale restaurants in another post. But here are the highlights:
Diego Pop's – Inspired by taco and tequila-fueled conversations on the beaches of the Yucatan, Diego Pops takes a modern and playful twist on authentic Mexican favorites. Try the hot Cheeto street corn!
Farm & Craft is focused on healthy and sustainable food. In a city where heat dominates, it is so refreshing to find light and healthy options.
The Mission is located in Old Town Scottsdale and offers up a mix of traditional and modern Latin flavors.
Fat OX serves up modern takes on the authentic recipes of rural Italy.
PIN THIS FOR LATER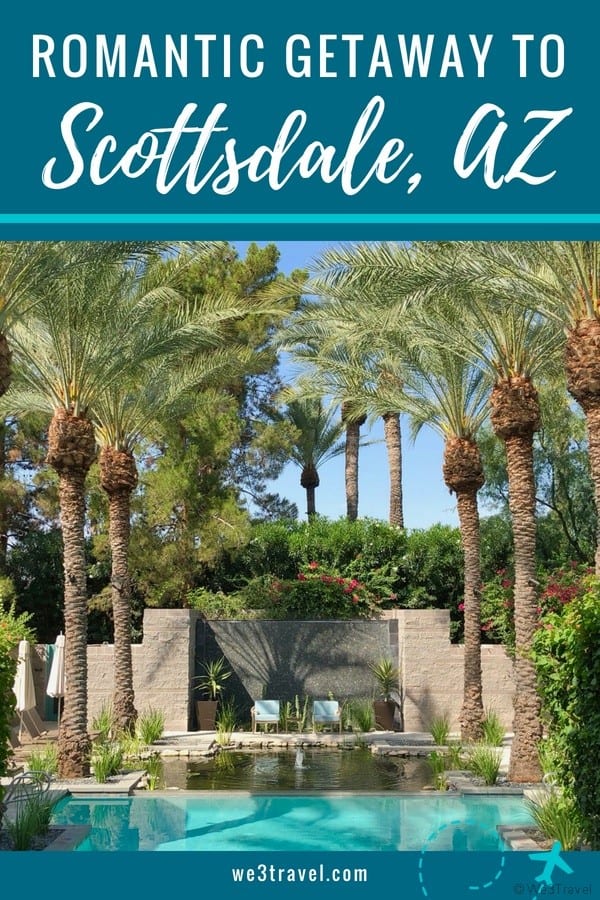 SaveSave