For a site called We3Travel, we have very few pictures of the three of us. This is partially because there is never anyone around to take family pictures; but also because I'm horrible at smiling for the camera so I never schedule professional photos. Honestly, one thing I dreaded about my own wedding day was having to pose for pictures. People tell me to smile and what comes out is a bizarre cross between a sneer and a smirk.
But I'm tired of having just father-daughter or mother-daughter pictures. So I decided that our recent trip to Vienna was the perfect opportunity to finally get some family photos while also capturing some wonderful memories. Serendipitously, just as I was starting to look into my options, I got an email from Matej Slezak, the Founder of Localgrapher, reaching out about a possible collaboration. Localgrapher works with over 168 photographers in 140 cities on four continents. Luckily for me, Matej was going to be in Vienna at the same time we were and we were able to schedule a session and meet in person.
Localgrapher Review: Capturing Precious Vacation Memories
Working with Localgrapher is extremely easy. From their website, you select your destination and you can see the various photographer options. You can look at their profiles to find a style and personality that is a good fit for what you have in mind. Next you fill in a short booking form, check availability, and you are done! The photographers are local so they know the city well and can suggest some good backdrops for your photos.
Best of all, it is fun! Looking back on our trip, Hannah actually said that it was one of her favorite activities. The style is so low-pressure and natural that you end up capturing beautiful photos of your family enjoying themselves instead of posing awkwardly with a cloth backdrop in some studio somewhere. Plus, it is kind of fun to be a model for a day.
We met up with Matej near the Hofburg Palace, where we had a variety of architecture as a background, from gorgeous stone buildings to pretty parks and glass greenhouses. To loosen everyone up, we started off very simple with some shots of us walking together. Of course it is harder to walk down steps without looking at your feet than you might think so a few takes were required to get us in synch.
Next we moved on to some sitting and leaning poses, which I think makes everyone feel more natural and are more flattering than standing group poses.
Since he talked to us about what we hoped to get out of the photo shoot, we also were able to capture some headshots for use on social media profiles and some shots of Hannah for her upcoming Bat Mitzvah programs.
Of course, I'll admit, I still don't like the headshot we took of me. Because once again, I'm posing! But, whenever he was able to capture us just enjoying ourselves we were very happy with the outcomes.
Within four days, we were able to access our photos via an online gallery and download or share them. We could even go through and mark our favorites to just download the very best.
Working with Localgrapher really turned my opinion around about professional photo shoots. We had so much fun doing this one and have such great photos as a result (just look at the home page), I may just need to do this for every big trip we take. Now the question is, will it motivate me enough to start sending out holiday cards again?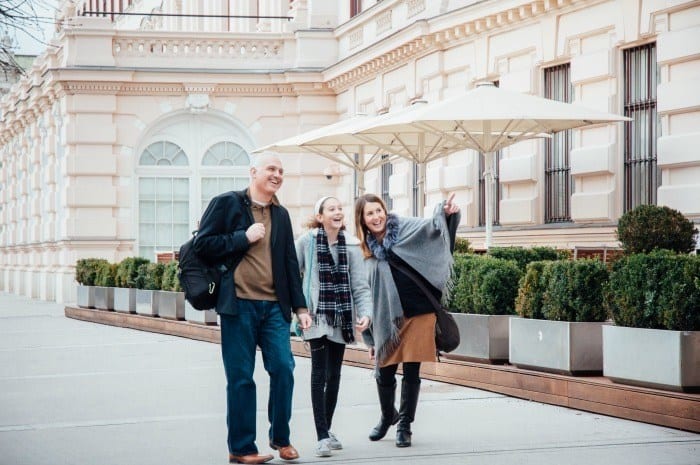 I want to give a huge thank you to Matej and Localgrapher for providing us with such a fun experience and great family photos! If you have ever considered doing something like this, I encourage you to give Localgrapher a try. Sessions start at $250 for a 30 minute session, but for a family I'd recommend at least a 60 minute session for $350.
Which photo is your favorite?
PIN THIS FOR LATER
Note: We received a complimentary photo session in exchange for this review. All opinions are my own.