Do you have a female hiker in your life? Or a woman that loves the outdoors, traveling, and new adventures? We've got some great gifts for hikers and the adventurous women to put on your list this holiday season.
I have handpicked these hiking gifts from things that I have used and loved, as well as recommendations from friends that I have added to my own gear list. Happy shopping! Just remember, Black Friday is also a great day to #getoutside so shop now and avoid those long lines and crowds.
Great Gifts for Hikers and Adventurous Women
Note: This post contains affiliate links and sponsored placements. If you click a link and make a purchase, I may receive a small commission. All opinions are my own.
Trekking Poles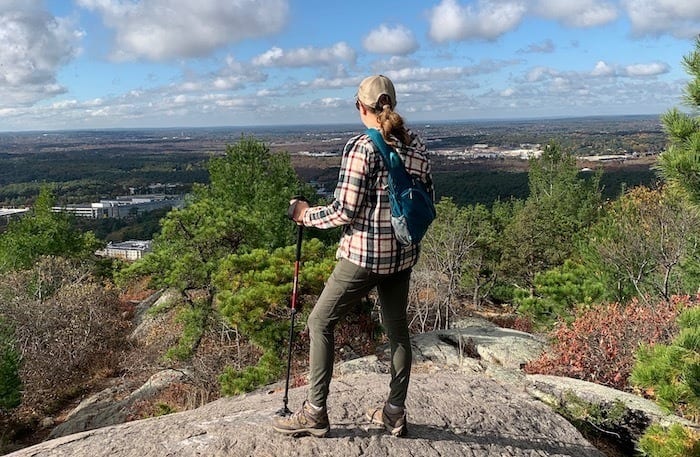 On our four-hour hike in Alaska, I fell in love with using trekking poles when hiking. The first thing I did when we got home was order a set of collapsible trekking poles. If your favorite hiker doesn't already use trekking poles, trust me that they are game changing!
We picked the Black Diamond Trail Ergo Cork trekking poles. These easily adjustable poles have a nice ergonomic handle design to reduce wrist fatigue but handle different terrain. They also come apart easily for packing in luggage or a carry-on bag. These were lifesavers when I was hiking in Maine and the Canadian Rockies this summer! If you are looking for something a bit easier on the pocketbook, try one of these budget trekking poles.
LifeStraw Water Bottle
Anyone that is doing a lot of hiking or adventuring on trails or in the backcountry without a reliably clean water supply should own a personal water filtration system. When you are hiking you never want to run out of water, but you also don't want to just drink from any stream (or even water fountain) you find.
The LifeStraw water filter removes 99.999999% of waterborne bacteria (including E. coli and salmonella), and 99.999% of waterborne parasites (including giardia and cryptosporidium). Now Lifestraw also makes water bottles with a built in filter to make it even easier.
Also see these recommendations for the best travel water bottle with a filter from Where is the World?
PrAna Clothes
I fell in love with PrAna clothing for travel and outdoor adventures in the summer and now I've been digging into their new winter line. What I love about this clothing line is the sustainability and the company's mission.
The clothes are so comfortable and are great quality but aren't outrageously expensive like some clothing brands. I have been testing out the Essex pants and Kayla jeans, along with the Frosene top, but there are so many cozy styles for cold weather!
Snowshoes
If you know an adventurer that likes to be outside, even in the cold, maybe they want to give snowshoeing a try? It is much easier and cheaper then setting up a ski or snowboard weekend and if you live in a cold climate, finding trails isn't usually too hard either.
You can find cheap snowshoes but after going that route only to have them break on the first use, I now recommend investing in a high quality pair like the Louis Garneau Blizzard II snowshoes. These are super easy to close, which is a plus for me when I have on bulky gear or I want to get out of the cold.
Hiking Socks
Every outdoor adventurer needs a few pairs of great hiking socks. I love the locally-made socks from Vermont's Darn Tough company. They are comfortable, stay put, and best of all, keep your feet really warm!
Exofficio BugsAway Leggings
Exofficio is a brand that is synonymous with outdoor adventure. I first heard about their travel underwear, but their line of BugsAway insect-repellant clothing is just brilliant.
Any woman traveler or adventurer will appreciate the comfort and qualities of the BugsAway Impervia leggings for hiking, travel, or just going about town.
Columbia Rain Gear
Our adventures always seems to end up getting rained on so we have learned to be prepared. I am a huge fan of Columbia Sportswear for rain gear including raincoats, parkas, and rain pants. We can usually find a good sale on all kinds of good hiking gear.
Hydro Flask Water Bottle
I drink a lot of water so I can't go anywhere without a refillable water bottle full of water. I also happen to prefer my water very cold. The Hydro Flask does an excellent job of keeping water cold (or hot) for HOURS even in the hot sun on a hike.
Some insulated refillable water bottles just have a screw-top lid, but I prefer the sports lid so that I can easily take a drink with just one free hand.
Waterproof Cell Phone Pouch
We tend to do a lot of adventures around water and I do not want to lose my iPhone in the depths of the sea, but I do want to capture some great shots along the way.
When I don't want to bother with the GoPro, I simply put my phone in the waterproof JOTO pouch. With a cord that wraps around my neck and a clear pouch for taking pictures, I get the best of both worlds for capturing photos when kayaking, paddle boarding, or even swimming.
Solar Power Bank

Everyone should travel with a back up power bank for recharging devices on the go. However, if you are going to be outside and away from power sources for an extended period of time, why not go with one that can be solar-charged?
Keep in mind that these power banks will always recharge the fastest when plugged into an electrical outlet. However, in a pinch, you can use the sun's power (it just takes a while.)
Looking for other gift ideas?
PIN THIS FOR LATER