While I'm traveling and researching new stories, I've asked my blogger friend Jen from The Trusted Traveller to share her recommendations on what to do with kids in her part of the world. Just reading her recommendations make me want to visit Australia even more! Enjoy!
Apart from a few years living in London, I've spent my whole life living in beautiful Sydney, Australia. And to be honest, I wouldn't have it any other way. It's the place where I grew up, where I've accomplished most of my life's biggest milestones, where I spend all of my free time when not travelling. It's where I work, where I eat, and where I socialise. It's a city that I doubt I will ever tire of.
Some of my fondest memories from my life in Sydney are from my childhood. Living in the suburbs with my mum, dad and younger sister having a typical suburban life where a trip into town was what I looked forward to most in the school holidays.
While dad was working hard to support the family, my mum was tasked with the job of entertaining two children for 12 weeks of the year at school holiday time. And I must say from what I can remember, she did an awesome job. Although, as great as my mum was at keeping us entertained, I'm sure she will agree with me when I say a lot of it came down to living in a city where there is so many great things to do with kids.
There is always something going on in Sydney to help entertain the kids, whether it be a new exhibition at a museum, newly born animals at the zoo or just plain old fun in an amusement park or adventure playground. As a kid, we never ran out of things to do!
And the city has gotten even better in the 20 odd years since I decided I was too old to for outings with my mum (teenagers eh!). When I wander around areas like Darling Harbour these days, there are so many more young families out enjoying the many great activities Sydney has to offer.
So, here are just 10 of the best things to do with Kids in Sydney, some of which I remember fondly from my childhood, and all of which will keep kids (and mum's and dad's) visiting Sydney happy and entertained.
Things to do in Sydney with Kids
1. Taronga Zoo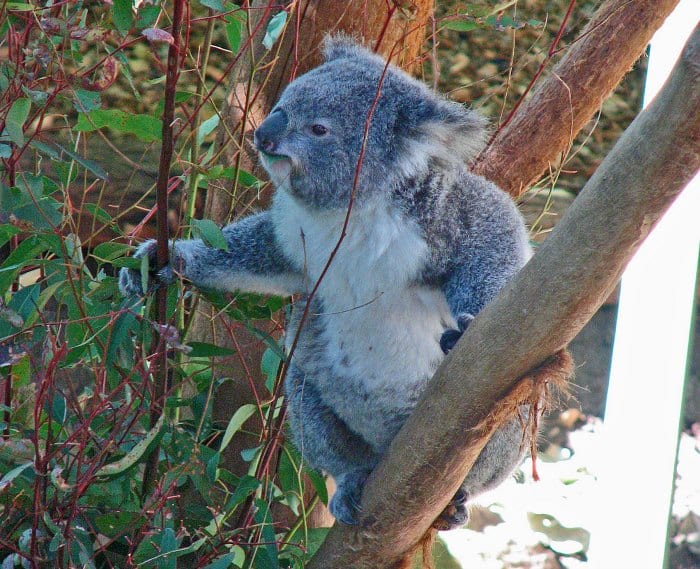 When I've visited other zoos around the world, I find myself comparing it to Taronga, and for so many reasons Sydney's animal park always comes out on top for me. Firstly it's in the best location, right on Sydney Harbour, offering beautiful harbour and city glimpses as you make your way through the zoo. But that's more for mum and dad.
For the kids it's all about the amazing array of animals. You'll find the favourites; lions, tigers, elephants, bears, giraffe, etc. but it's the native Australian animals like kangaroos and koala's that makes Taronga so popular with overseas visitors. Taronga gives you the chance to cuddle a koala and feed the kangaroos. What kid wouldn't be excited about that!
2. Powerhouse Museum
Every school kid in Sydney and the surrounding area takes an excursion to the Powerhouse Museum at some point in their education, me included. The museum's focus is diverse, ranging from science and technology to design and decorative arts, to engineering and architecture, health, fashion and even contemporary culture. There is really something there to interest just about everyone in the museum's permanent and ever changing temporary exhibitions.
It's very hands on too, letting the kids think they're just playing around and having fun, whereas they're really learning something new and useful. Current temporary exhibitions that are perfect for the kids include: Circus Factory, giving you a closer look at the inner workings of circus life including lots of hands on exhibits; and The Wiggles exhibition featuring fun Wiggles themed activities for the kids while the adults can get a better understanding of how Australia's biggest children's entertainment group came about.
3. Sydney Sea Life Aquarium
If your child is less into the furry animals and more into life under the sea then a visit to the Sydney Aquarium is a must. Wander through the underwater world full of colourful tropical fish, graceful rays, frightening sharks and the new addition to the family, the dugongs.
Once you've seen everything from a regular visitors perspective you can then choose to take a behind the scenes tour. This tour shows you the day to day workings of the aquarium, allows you to feed the fish and you'll learn all about how they care for the marine life including the sharks.
3. Adventure Playground in Darling Quarter
This area has changed rapidly over the past 20 years. I remember visiting this playground as kid and thinking then that the rickety old equipment was the best thing ever! The other day I happened to wander past and got the shock of my life. It is quite possibly the best playground I've seen and my 30 something year old self kind of wanted to be 10 again.
The playground consists of dozens of activities that have been put in place to not only entertain the kids but to promote learning and imagination. Things like climbing ropes, water games, giant slides and even a flying fox will have the kids begging to go back time and time again. And the best part about this playground is it's absolutely FREE! And if your kids are old enough to play unsupervised, there's a bunch of really nice cafes nearby for mum and dad.
4. Luna Park
Unlike most other theme parks that charge a hefty entry fee, Luna Park is 100% free to enter, wander around, soak up the atmosphere and take in the awesome harbour bridge views. It will however cost you for each ride individually and I think it would be hard to take the kids there without letting them take at least one or two of the rides.
Once you're through the iconic entrance you'll find there's something to suit all ages (even the really big kids). You can ride the giant ferris wheel, try your luck on the sideshow games, take a ride on the rollercoaster or step inside Coney Island for an indoor funhouse that is fun for the whole family.
5. Sydney Observatory
If your kids are into astronomy then they will love the Sydney Observatory. It's the oldest of its kind in Australia and sits on top of a hill just behind the historic Rocks area with great views of the harbour.
Visitors can experience the Planetarium to witness the constellations mapped out and see the representation of the sky speed from dusk to dawn. Or you can have a go at one of the high tech telescopes during the day and at certain times of the year, at night too.
6. Kid Friendly Beaches
A visit to Sydney in the summer time wouldn't be complete without a visit to the beach. While most would flock to Sydney's most well know beach, Bondi, it isn't exactly what I would call a kid friendly beach. But there are still plenty of beautiful beaches that have calm water, shade and a much more suited to young families.
Just a 20-30 minute ferry ride from Circular Quay is the popular Manly beach. Because it's in a sheltered cove it tends not to get many waves, making it the perfect spot for kids to have a paddle in the water. There's also lots of shade from the massive pine trees that line the beach.
Nearby is Balmoral which is quieter than Manly but still has the calm ocean, shade and is very popular with the local young families. Closer to the city is Coogee which is just a beach or two away from Bondi so it does get busy but it is again popular with families.
7. IMAX Theatre
The perfect rainy day activity is always a trip to the cinema, but in Sydney you can go one better and visit the world's biggest IMAX theatre. What makes IMAX far superior to a regular cinema is the crystal clear images that are ten times larger with an experience that draws you in and makes you think it's so real you can touch it and almost feel it.
IMAX show some the latest films and regular special presentations that are specifically made for these massive screens. Films are shown in both 2D and 3D making sure there is always something on that the kids and adults will love.
8. Australian National Maritime Museum
The Maritime Museum has been open in Sydney for over 20 years and is a must visit place for kids wanting to learn more about the maritime history in Australia and other parts of the world. The museum covers important maritime areas such as defence, Indigenous culture, European exploration, immigration, and Australia's maritime links with other countries around the world.
You'll get to climb aboard real maritime vessels like a submarine and a naval destroyer as well as check out the vintage HMB Endeavour at certain times of the year. There are also plenty of fun, interesting and interactive exhibitions on things like pirates, myths of the sea, Charles Darwin and Immigration around the world.
9. Sydney Olympic Park
One of the great things about living in or visiting a city that has previously hosted the Olympic Games is the awesome sporting facilities that become available to the public when the competition is over. Sydney, having hosted the 2000 Olympics, has some of the world best sporting facilities all in one place, just west of the city centre at Sydney Olympic Park.
Along with major sporting events and festivals being held here throughout the year, there are also tons of activities that are open every day and are fun for the whole family. There's an Urban Jungle Adventure Park, indoor pool with slides and fun water activities for all ages, you can hire bikes or segway's and ride around the 35km of cycleway's within the park, or learn a new sport like archery or diving. The most fun though can be found on the trapeze where you can learn to swing, flip and catch like a pro.
About Jen Seligmann
Jen has been travelling most of her life, but it wasn't until 2009 that the travel bug really started to bite. Images and stories from the adventures of family and friends around the world inspired her to sell her house in Sydney, put her belongs in storage and take off to Europe. This eventually led to a few years living and working in London, exploring Europe as much as she could. Since then she and her husband have visited over 20 countries on four continents with many more trips planned for the future. Jen's website, The Trusted Traveller, is all about inspiring and informing others to get out there and see the world in the most prepared way possible. You can follow Jen on Twitter, Facebook, Pinterest and Instagram.
SaveSave