In the last year, we have flown quite a few budget airlines. We flew Spirit to Orlando, Frontier to Denver , and I took Norwegian Airlines from Providence to Dublin and Martinique. In the past, I've shied away from low-cost carriers in favor of carriers like JetBlue.
But these days with the limited inclusions in "economy" class on full-fare airlines, there doesn't seem to be much difference — so why not take the cheaper flight? Since cost is always one of the top reasons families don't travel, I've set out to find the best budget airlines for families.
I have asked some of my fellow travel bloggers to share their experience with budget carriers to create a budget airline comparison. In our joint experience, some low-cost airlines are a step above when it comes to customer service, while others are to be used only with caution.
There does seem to be a common thread of "gotchas" that you need to look out for when booking a budget airline. These include:
Many budget airlines have a limited number of flights to/from a destination. This means that if there is a problem with the aircraft or the flight is undersold, it may be cancelled or significantly delayed. What does this mean for families? Don't book a budget flight when you really need to get to your destination on time (cruise departure, special event, etc.) Obviously with air travel there are no guarantees, but some flights are riskier than others (which is why the first flight of the day is usually the best bet!)
Low cost fares usually means a la carte pricing. The advertised price is not the true price so compare the full cost before making a choice. Extra fees to look out for include: seat selection, type of seat, baggage fees, carry on fees, and meals/snacks/beverages. Of course, this can even be the case on major airlines like American and United.
Baggage and carry on restrictions. We have become accustomed to a checked bag weight limit of 50 lbs but another way some airlines reduce costs is by restricting baggage size and weight. You need to read each airline's rules carefully to see if their checked bag weight limit is 40 lbs, 44 lbs, or 50 lbs, etc. Carry ons can similarly be limited. Some airlines only allow a personal item (with strict size restrictions) and charge for a carry on. Others will weigh and measure both your carry on and your personal item so it is important to research all this in advance.
Budget airlines aren't part of global alliances and therefore you can't usually earn those points or perks, or book round the world tickets.
Best Budget Airlines
For this budget airline comparison, I took into account airline policies and a combination of real-life accounts (see budget airline reviews below.)
US Budget Airlines Comparison

Domestic & International Budget Airline Reviews
Air Canada Rouge
My family has been flying Air Canada rouge since 2013. Our experiences have always been quite good. You need to prep for the flight by downloading the in-flight app on a phone or iPad or bringing enough entertainment to get you through. The cost of food isn't insane and it's as expected on a flight. We still fly them quite religiously as we can get to amazing destinations like Hawaii for far less money. If it's your first Air Canada Rouge flight, know that anyone over six-feet tall should book the emergency row. All business class is dated but provides you with sufficient extra leg room. I wouldn't hesitate to book as the service has always been excellent and flights have always been on time.
Allegiant Airlines
To be honest, I was a little nervous to fly on Allegiant Airlines for the first time. The only other experience I had heard of was when my brother flew from Las Vegas to Honolulu and his luggage arrived in shreds. But when I needed to book a last minute ticket and the price was a third of competitors I figured it was worth a shot.
Allegiant is a no frills airline. Expect to pay extra to reserve your seat ahead of time (price varies depending on seat location), to pay extra fees for a carry-on and checked luggage, and know ahead of time that there are no free drinks or snacks on board. It threw me for a loop that the price I was quoted was not the end price due to the extra tag on fees. That being said the boarding process went smoothly, my seat neighbor was friendly and I planned ahead with a snack and a water bottle. Since it was only a 1.5 hour flight I had no problems, a longer haul would likely be uncomfortable since the seats were small and narrow. I would definitely consider booking with them again.
Hilarye Fuller, Dotting the Map
Easy Jet
There's nothing easy about flying EasyJet, but it's certainly cheap. Here are a few tips:
Note their carry-on restriction of only ONE bag per person. This does not mean a carry-on and a personal item or backpack, but rather only ONE piece of baggage total. Families can check bags if needed, for 25 euros online, 35 euros at the check-in desk, or 45 euros at the gate. Ouch. Here's what we did: each person in our family had a carry-on and a backpack. We put all our extra shoes and laundry in our largest carry-on, and paid to check it online for 25 euros. We then had just enough room for everyone to stuff their backpack into their carry-on for the flight, with one person carrying only the largest backpack. Whew!
Secondly, queue up to board early. If the boarding time is listed as 8:30 am, for instance, you'll see people queuing as early as 8 am. By all means, join them, because like with Ryan Air, those last few to board have their carry on bag size analyzed more carefully. Though I will note that during the busy holiday season, a gate agent came down the line and measured each and every person's bag. Talk about stress!
Amy Whitley, Pit Stops for Kids
Frontier Airlines
We flew Frontier Airlines from Providence to Denver, just a few days after Frontier started flying from Providence's T.F. Green airlines. Our flights were purchased for us, but we had baggage and seat assignments included so that we could all sit together. The boarding process was smooth and we left on time for both directions. In fact, I'd give their customer service high marks for two reasons. One (and maybe this was a new thing) but the on-ground crew lined up and waved to our plane as we pulled out onto the runway. Next, we were in Denver airport during the eclipse and Frontier staff went around asking people if they wanted to borrow eclipse glasses to watch — I thought that was so nice! The service on the plane was friendly and courteous too.
To me the only downfall came with comfort level. They market their seats as "pre-reclined", which means they aren't entirely straight up and down but they don't recline either. I don't mind that much since I never recline unless it is an overnight flight as a courtesy to my fellow passengers. However, instead of a full padded seat, the Frontier seats are molded plastic with some padding on the front part. We survived our four-plus hour flight just fine, but I'm not sure I'd want to be on a longer flight with that seat. The tray table was also quite small, definitely not suitable for working on a laptop.
As with most budget airlines, Frontier is no frills. No WiFi to purchase, no entertainment, no in-seat charging, no meals, and you even need to pay for beverages and snacks. This really doesn't bother me as long as you come prepared.
Would I fly Frontier again? Certainly under the right circumstances, especially for shorter flights.
Tamara Gruber, We3Travel
Norwegian Airlines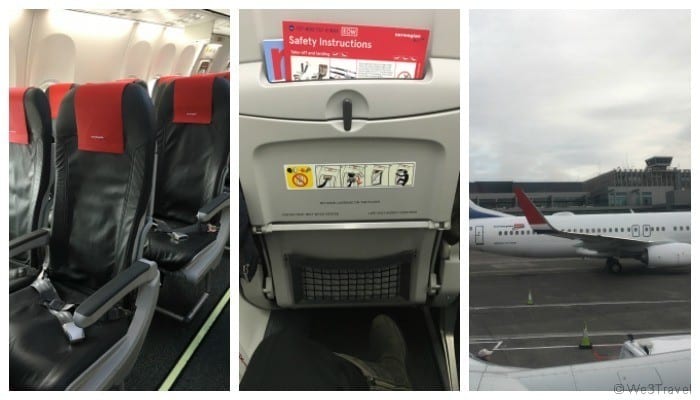 I wasn't sure if I was going to attend TBEX in Ireland this year, but when Norwegian started flying direct from Providence to Dublin, Shannon, and Cork for fares starting at $99, I made the leap. This was my first international trip on a budget carrier, but I had heard such good things about Norwegian Air and they have been named the world's best, long-haul, low-cost carrier. I knew they weighed and measured bags and you needed to buy your food, but I've also heard that they primarily fly new 787 Dreamliners.
Unfortunately, that isn't the case from Providence. I was on your standard 737 with three by three seating — not my preference for an international flight. My experience didn't start off on the best foot either. Since Providence is a small airport and, since I have Global Entry I'm usually pre-check, I arrived only about 1.5-2 hours before my flight and the line to check in was all the way back to the door. Norwegian only had three desk agents available and three international flights departing within a few hours of each other. Online check in and check-in kiosks were not available so there was no choice but to wait in line to check my bag and get my boarding pass. The check in process took over an hour, and this is with all Dublin passengers being pull out to a separate queue.
Next, since Norwegian's system isn't connected to the TSA Pre-check system, I had to wait in the standard security queue, which was longer than usually for Providence. By the time I got through security, they were on final boarding call for my flight. I quickly bought a large water and snack on boarded.
I was seated in an exit row, so I had plenty of leg room. However, I needed to put all of my belongings above in the already crowded compartments for take off and landing, just as you do in a bulkhead seat. I noticed that at least three of the overhead compartments were blocked off for life rafts, which really stunk for people sitting in those rows. I was glad I didn't bring a carry on bag, just a personal item. Since I didn't have time in the terminal, I went to the back of the plane before take off to use the lavatory. The first one I looked in was dirty (like poop in the toilet dirty!), which didn't bode well for the flight.
Overall the flight went fine, but wasn't very comfortable for an overnight, overseas flight. My seat didn't recline, but I'm not sure if that was because I was in the exit row or not as I've heard from others that took a similar flight that their seat did recline. I had purchased the "plus" ticket, which included a checked bag, seat assignment, and meal. The meal was typical airline food or worse, but it did also include a glass of wine, which I happily partook. However, I was glad I purchased a very large water because I found that the flight attendants didn't come around very frequently (on both flights) to purchase beverages or food.
One other warning that I would give those flying Norwegian, especially from Providence. One of the reasons why my plane was so full is that they cancelled the flight the night before because it was undersold. And, Norwegian doesn't fly to each destination every day so you may book a flight to Shannon and if it gets cancelled, end up on a flight to Dublin the next day. Also, the baggage weight is less than a U.S. carrier so pack light!
Would I fly Norwegian again? On a Dreamliner, certainly (so check your plane type before buying tickets.) On a 737…maybe. I'd prefer a larger plane for an international flight but luckily the flight from Providence to Ireland is only about five to six hours so it wasn't too bad. I wouldn't take that plane on a longer flight. The price outweighed the comfort level — only $360 including the baggage package.
UPDATE: There are rumors that Norwegian may be experiencing financial difficulty — book with caution and check your options for travel insurance!
Tamara Gruber, We3Travel
Ryan Air
RyanAir can be a great option when you want to hop around Europe. This Ireland-based airline regularly serves up airfares for under thirty dollars plus taxes, but there is a catch or two to this discount airline. The maximum checked baggage allowance is about 40lbs, instead of the U.S. standard 50lbs. You may also not end up the airport you thought you would arrive.
Twice I have flown with RyanAir and arrived at a different airport than I booked. The first time was while flying from Bologna to Palermo in Italy. Not being fluent in Italian, we didn't even realize this was the case until we were getting off of the plane and the very kind flight attendant grabbed me to make sure I knew what was happening. Apparently we were at an airport a few hours west of Palermo and were going to be bused back up to the city. A few years later we were flying RyanAir again and the same thing happened. We were flying from Scotland to Italy. There were strong winds in Rome, which required us to land on the opposite side of the country and sit on the tarmac for a few hours while the airline figured out what to do. The airport we were at was too small to handle immigration, so we couldn't even be bused across the country to Rome.
So, while the price is cheap, and plenty of flights make it to their destination with no problems, do be prepared to have your flight diverted from time to time. Always check that you have arrived at your actual destination, especially if you do not speak the local language.
Southwest Airlines
It's still free to check a bag–even two!– on Southwest, and they still offer a somewhat preferred family boarding option for those traveling with kids ages six and younger. Do note that, while their policy states, "Families traveling with children six years or younger may board before the "B" boarding group," that only includes immediate family members. If grandma is coming along for the trip, she'll have to board separately if she hasn't purchased an Upgraded Boarding option. See tips for flying Southwest Airlines with a baby. Also see this complete guide to flying Southwest with kids.
Corinne McDermott, HaveBabyWillTravel.com
While Southwest was originally a low-fare carrier, today they are the largest domestic carrier in the United States. They are also one of my favorite airlines. Even still, there are a few things to know if you have never flown Southwest before. On the positive side, two bags per person fly free — who has that anymore? Many planes also offer WiFi to purchase for $8 (versus $25 for American!), and free entertainment through the Southwest app. Southwest also offers free beverages and snacks!
On the negative side, Southwest has an open seating policy. This means there are no assigned seats and you are boarded numerically in sections. Section A 1-15 is for Business Select flyers, then A List members (frequent flyers with status), followed by those who purchase Early Bird Check in, which automatically checks you in 36 hours before the flight. If you want to ensure you get seats with your family, you have three options. 1) Purchase Early Bird check in for $12 per person, per segment. This will get you on the flight early enough (in the A boarding group) to get seats together. 2) Board during family boarding for families with children under six, which happens between A and B group boarding. 3) Otherwise, set an alarm and check in online exactly 24 hours in advance, as soon as online check in becomes available. Just note that this is note fool-proof. I recently checked in 24 hours in advance and got boarding position C 17.
Tamara Gruber, We3Travel
Spirit Airlines
I did fly Spirit Airlines as part of a paid influencer campaign to promote its new routes from Hartford, CT to Florida and Myrtle Beach. However, I honestly had a pleasant experience. We flew from Hartford to Orlando to check out the new Volcano Bay at Universal and Pandora at Animal Kingdom. Our flight from Hartford was delayed by a couple of hours, but that is not unusual, especially for an evening flight. We were seated in the front row of normal size seats and found them quite roomy and comfortable as Spirit has one of the newest fleets in the industry.
As a no-frills airline, we knew not to expect WiFi, food, or free drinks. You also need to pay for checked bags and/or carry on items — just one small personal item is allowed. The big gotcha on Spirit's luggage policy is that they have a weight limit of only 40 lbs (instead of the more standard 50.) This means the check in line is slow as people are trying to move things from their bags and rearranging their luggage at the airport (even though the do usually have a scale you can test your luggage before you get to the counter.) I found Spirit's flight attendants quite personable. They remind me of Southwest in their use of humor and even self-deprecating jokes to make light of their no-frills policies and "cozy" legroom.
A few tips to note: 1) if you purchase your bags in advance, it is cheaper than purchasing at the airport; 2) print your boarding passes at home because they will charge you to print at the airport.
Would I fly Spirit again? Sure. Years ago I couldn't stand Spirit's "nickel and dime" policy but now, it has been so common that at least from a budget airline, it is acceptable and even expected. Read our Spirit Airlines review.
Tamara Gruber, We3Travel
TAP Airlines
TAP Airlines is the national airline of Portugal, and we had the chance to fly them this past year from Paris to Lisbon. The flight itself was a steal at $80 round trip, but we did have to pay baggage fees for two bags both ways (we had two weeks worth of luggage for five of us.)
The flight itself was seamless. Check in was easy, the planes were nice and clean, and flight attendants were friendly. They even served substantial snacks and juice for the flight. We departed and arrived on or ahead of time, which is more than I can say for many flights I had on larger carriers this year. TAP is a great choice for a budget airline!
Kirsten Maxwell, Kids are a Trip
Updated March 28, 2019 to remove WOW, which just declared bankruptcy. Just another reason to make sure to purchase travel insurance!
More Budget Vacation Ideas:
PIN THIS FOR LATER
SaveSave
SaveSave
SaveSaveSaveSave
SaveSave
SaveSave
SaveSave
SaveSave
SaveSave
SaveSave
SaveSave
SaveSaveSaveSave
SaveSave
SaveSave