Who knew staying home would be so hard? As the weather warms up, I am longing to dig my toes in the sand, take a long stroll along the water's edge, and listen to the pounding of the waves that quiets my soul. With beaches closed, that isn't an option. But that doesn't mean that I can't get my beach fix through live beach webcams and escapist beach quotes to satisfy my wanderlust.
From the rocky shores of California to the wide beaches of Florida, from the chic coasts of the Mediterranean to the surfer's paradise in Australia, here is where you can find your daily escape. Pick a destination, maximize your screen, turn up the volume, and breath. I hope that these live beach cameras bring you some peace during challenging times.
You may even discover a new beach you want to explore in person when we are all traveling again.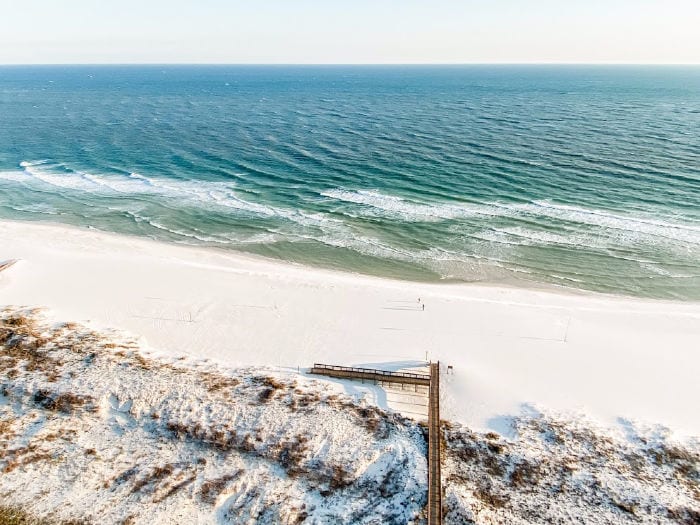 Beach Webcams in the United States
Ogunquit Beach, Maine
Ogunquit on Maine's southern coast was named by the local Abenaki tribe, meaning "beautiful place by the sea." Today you can still enjoy this stretch of rugged coastline that typically welcomes families and the LGBTQ community through webcams from two local hotels. Beach lovers can check in on the Ogunquit Beach via the Beachmere Inn webcam, or you can watch the ebbing and flowing of the tide via the Norseman Resort webcam.
Outer Banks, North Carolina
Twiddy and Company is the largest vacation home rental company in North Carolina's Outer Banks. Their live beach webcam gives you a close up view of the beach and the waves, and is a perfect choice for early-birds looking for a sunrise beach view.
Myrtle Beach, South Carolina
Myrtle Beach, where "happiness comes in waves," stretches along 60 miles of the South Carolina coastline. Typically welcoming over 19 million visitors a year, you can still explore this family-friendly destination from a variety of resort webcams covering the renowned oceanfront Boardwalk and SkyWheel and beyond. I love watching the waves roll in and the shadow of clouds moving across the sand on the Coral Beach Resort webcam.
Martin County, Florida
Part of South Florida's Treasure Coast, Martin County offers more than 22 miles of beautiful beaches and towns that combine Key West whimsy and Old Florida charm. Take a virtual vacation by tuning into the House of Refuge surf cam. You can take control of the camera to shift the view up and down this favorite Hutchinson Island beach. The cam also overlooks the House of Refuge at Gilbert's Bar, which is a series of 10 houses of refuge that were constructed in the late 19th century as safe havens for shipwrecked sailors and weary travelers.
Cocoa Beach, Florida
Florida's Space Coast is the East Coast surfing capital, home to 11-time ASP World Tour Champion, Kelly Slater. Surfers in particular will enjoy checking out the many surf cams from Cocoa Beach, the Indialantic Boardwalk, Jetty Park, and Sebastian Inlet State Park.
Fort Lauderdale, Florida
Greater Fort Lauderdale is home to eight distinct beach communities spanning 23 miles of beautiful Atlantic coastline, each offering live webcams from beaches, the intracoastal waterway, an underwater sea cam, and even an Everglades camera if you want to try to catch a peek of an alligator. You can see Fort Lauderdale beach from four different cameras – three from hotels and one from the iconic Elbo room bar that was featured in the 1960 film Where the Boys Are. There are also cams in Dania Beach, Pompano Beach and in Deerfield Beach. Take your pick of beach webcams at Sunny.org.
Miami, Florida
Just because the beach is closed, doesn't mean you can't enjoy some of Greater Miami and the Beaches' unique experiences. Along with virtual tours and live webcams of Miami's world class museums, national parks, and neighborhoods, you can take in the splendor of Miami's South Beach without the crowds from a live beach cam.
Sanibel & Captiva, Florida
The Beaches of Fort Myers & Sanibel offers the perfect virtual beach getaway to relax and enjoy the beaming sun, white sand beaches, and sparkling waters from a safe distance via their live beach webcams. South Seas Island Resort's beach webcam highlights an empty stretch of uninhabited beach and swaying palm trees on Captiva Island. While Casa Ybel Resort's beach webcam will calm your nerves listening to the crashing waves on Sanibel Island. Finally you can then venture to Pink Shell Beach Resort & Marina's beach webcam, which allows you to explore the beauty of Fort Myers Beach through the comfort of your screen.
Clearwater, Florida
One of my favorite beaches in Florida is Clearwater Beach, with its long stretches of sugar-white sand. For your daily moment of zen, you can transport yourself to the white sand and turquoise waters of St. Pete/Clearwater with four live beach webcams of Clearwater Beach, Indian Rocks Beach and two different views of St. Pete Beach. The destination boasts a record-breaking 361 days of sunshine per year and also serves up some amazing sunsets.
Destin, Florida
Destin, located on Florida's panhandle on the Gulf Coast, is a popular destination for families. Destin Gulfgate is a hidden gem among the many vacation rental options along the Emerald Coast. These beachfront condos have access to an uncrowded beach, which stretches 450 feet across the emerald waters of the Gulf and is showcased in their live beach cam.
Ocean Reef Resorts also offers a beach cam overlooking the sugar-white sand and emerald-green water of the Gulf.
Pensacola, Florida
Located on Northwest Florida's Gulf Coast, Pensacola offers 450 years of rich history and 18 miles of sugar-white sand beaches bordered by the emerald-green waters of the Gulf of Mexico. With an average of 343 days of sunshine a year, taking a virtual peek of Pensacola's beaches will brighten a gray day. Visit Pensacola offers beach cams with views to the east, south, and west — so take your pick or try them all from sunrise to sunset.
Gulf Shores, Alabama
Long-time readers already know that Gulf Shores and Orange Beach, Alabama is one of my favorite stretches of coastline. The Beach Club by Spectrum Resorts offers a live beach cam from their secluded stretch of white sand beach of the Fort Morgan peninsula. The resort was built with one goal in mind: to craft an experience where families can rest, relax and reconnect by disconnecting from their hectic, daily lives. When we are able to travel again, the full-service resort boasts two restaurants, as well as a poolside bar and grill and ice cream parlor. In addition, you'll find five outdoor pools, an indoor pool, full-service Aveda spa, two arcades and eight Rubico tennis courts.
Biloxi, Mississippi
Be transported to coastal Mississippi with views from the top of the 200-year-old Biloxi Lighthouse, a symbol of the region's resilience. The Biloxi Lighthouse live stream, also used as a traffic cam, overlooks part of the longest man-made beach in the nation and the Mississippi Sound. As this live stream camera faces west, it captures some of Coastal Mississippi's famously stunning sunsets.
Catalina Island, California
The Catalina Island Chamber of Commerce and Visitors Bureau offers a compelling webcam with sweeping views of Avalon's harbor and beaches. Catalina Island, located just a short boat ride from the Southern California mainland, is a popular destination for visitors looking to escape the pressures of the mainland. With spectacular island scenery and a Mediterranean ambiance, Catalina makes a nice "virtual" escape.
Huntington Beach, California
Locally known at "Surf City," Huntington Beach attracts both families and surfers alike. Located less than 35 minutes from Disneyland and an hour from Hollywood, it is a popular home base for families planning a vacation to Southern California. You can still enjoy the beach from home with a live webcam of the Huntington Beach Pier.
Half Moon Bay, California
The Ritz Carlton, Half Moon Bay is perched atop a rugged bluff overlooking 50 miles of pristine California coastline. Hop into a "deck chair" for panoramic ocean views using the resort's webcam. This one even offers daily time lapse views if you want to catch a quick sunset.
Santa Barbara, California
Santa Barbara offers a number of webcams, including one that will take you underwater to the Kelp forest at the Channel Islands National Park.
Torrance, California
Torrance Beach is known for its quintessential California vibe, unique food, and craft beer scene, as well as the 1.5 miles of uncrowded beach. You can enjoy this beach via a live web cam and start California dreaming.
Monterey, California
Monterey offers a number of web cams, including ones of the adorable otters at the Monterey Aquarium, but if you a looking for amazing cliffside ocean views, check out the web cam at the Tickle Pink Inn in Carmel.
Beach Webcams from Mexico & the Caribbean
Cancun, Mexico
The NIZUC Resort & Spa, voted the "Most Instagrammable Hotel in the World" by readers of Luxury Travel Advisor, offers a live beach cam from the resort. Set within a paradise of protected mangroves, and once a base station for Mayan astronomers, the NIZUC camera faces west, capturing the white sands of the Mesoamerican Barrier Reef – the second largest coral reef in the world – and offering a perfect beach sunset. See the NIZUC live webcam here.
Riviera Maya, Mexico
Hotel Xcaret Mexico and Xcaret Park offer live webcams of their beaches where you can catch a glimpse of the picturesque sunrises and sunsets of Cancun and even hear some of the wildlife at the comfort of your home.
Los Cabos, Mexico
Escape to the beach if Los Cabos, Mexico or catch a beautiful beach sunset with this panoramic Cabo San Lucas webcam. Los Cabos is a land of contrast, from breathtaking seas, to desert and mountains. It is also one of the biggest and most unique hotspots in the Pacific for whale watching from December to April, hosting humpback whales and even grey whales, who travel to the northern points to mate. As a bonus, the area has shark-whales and orcas throughout the year, and in the Northern part of Baja California Sur state visitors have the rare opportunity to see the blue whales.
Going beyond the beach, many area hotels are offering virtual escapes and experiences, from the #HiltonLosCabosAtHome series offering quick Spanish lessons, recipes and crafts from the Kids Club via the Hilton Los Cabos' Instagram Channel; daily yoga, tips and classes from the Grand Velas Los Cabos via Facebook and Instagram; or the "Can't Stop the Music" virtual concert series from the Hard Rock Hotel Los Cabos on Instagram.
Punta Cana, Dominican Republic
The Palladium Hotel Group offers many live beach cams from its five-star resorts in Mexico, Jamaica, the Dominican Republic, and Brazil. One of my favorites is from the Playa TRS Hotel in Punta Cana. Not only can you see the stunning turquoise water and white sand beach, but they have also include a message in the sand encouraging us to #StayatHome for now.
Grace Bay, Turks & Caicos
Turks & Caicos has some of the most beautiful beaches in the world. You can now enjoy these beaches from home with a beach cam from the Seven Stars Resort & Spa, which is located on Grace Bay Beach in Providenciales. This award-winning, luxury resort is a favorite among couples and enjoys a loyal following with more than 50% of guests making it their annual vacation of choice (and right now is offering a 24-hour cancellation policy for any bookings made through May 31st for stays through December 31, 2020.)
British Virgin Islands
The British Virgin Islands are nicknamed "Nature's Little Secrets", and are known for its pristine beaches, sailing community, and iconic painkiller cocktails. The birthplace of this legendary cocktail is the Soggy Dollar, one of the most iconic beach bars in the Caribbean. Celebrating its 50th anniversary in 2020, travelers can visit White Bay Beach and the Soggy Dollar Bar virtually via its live beach cam. So recreate trip tropical cocktail at home with dark rum, cream of coconut, pineapple and orange juice, topped with fresh grated Grenadian nutmeg. This recipe is sure to kill the pain of quarantine!
Grand Anse, Grenada
The two-mile arc of powdery-white sand has earned Grand Anse in Grenada the title of "best beach in the world" from Conde Nast Traveller. The sand is fringed with sea almond trees and palms while the water teems with marine life including starfish and – occasionally – turtles. Never crowded, even when not under lockdown, the beach is a launching spot for snorkelers visiting the world's first Underwater Sculpture Park and some of Grenada's dives sites. So if you are #GrenadaDreaming, park yourself in front of the Grand Anse beach cam for a while, especially at sunset for a perfect west-facing view.
Gibbes Beach, Barbados
Hammerton Barbados, a travel agency focused on luxury villas in Barbados, recommended the web cam overlooking Gibbes Beach. You can listen to the sound of the waves gently washing up on shore, see the crescent-shaped beach, the glorious shades of blue in the water, all rimmed with lush vegetation and colorful flowers.
Barnes Bay, Anguilla
Anguilla is home to 33 of the world's most beautiful beaches and has been ranked the Best Caribbean Island for three years in a row by Travel + Leisure. Luckily you can explore many of the island's beaches virtually through live beach cameras. My favorite is located at the Four Seasons Resort in Barnes Bay and showcases a little slice of paradise.
Bonaire
If you would rather escape under the water, Harbour Village has held a long standing commitment to creating a sustainable environment for guests to enjoy on the island of Bonaire and has spearheaded a number of reef preservation and regeneration efforts in which their guests can get involved in supporting through a number of ways, including keeping an eye on how the progress is going via the reef webcam hosted on the resort's website.
Live Beach Cameras from Europe
Cornwall, England
On the southwest coast of England, Cornwall is bordered by the north and west by the Celtic Sea and to the south by the English Channel. The south's "Cornish Riviera" is home to picturesque harbor villages, while the north is lined with towering cliffs and seaside surfing resort. Aspects Holidays, a self-catering holiday cottage rental company, allows you to explore its favorite spots in Cornwall through live webcams overlooking Porthmeor beach in St. Ives, Mousehole Harbour, Penzance Promenade, St. Michael's Mount, and more.
Croatia
Lošinj is one of the most popular islands in Croatia, known for its lush vegetation and striking bays. This lovely island offers a mild Mediterranean climate and the impeccable purity of the Adriatic Sea. With a combination with untouched nature and abundant hours of sunshine, and it is not surprising that Lošinj is famed as the 'Island of Vitality'.
This beach cam from Lošinj Hotels & Villas is live 24×7 and features the idyllic Sunčana (Sunny) Bay contrasted amongst the pine forests.
Monte Carlo, Monaco
Head down to posh Monaco and the Le Méridien Beach Plaza, the only hotel in Monte-Carlo with direct access to its own private beach. The hotel beach webcam features daily time lapses, when you need a whole day on the beach but only have a few minutes to spare. And while technically in France, the Monte-Carlo Beach Hotel also features a private beach and webcams.
Cascais, Portugal
The seaside town of Cascais in Portugal is popular with locals and visitors looking for a day trip from Lisbon or a beach holiday. Take a peek at the Conceição and Duquesa beaches in town and get a look at the seaside promenade and outdoor restaurants along the walkway. You can also use a beach cam to visit Guincho Beach, with is part of Sintra-Cascais Natural Park, with a surrounding landscape of great beauty of white sand dunes and the Serra de Sintra hills in the background. This beach is popular with surfers, bodyboarders, and windsurfers.
Beach Cams from Asia & Oceania
Maldives
Set an alert because you can now tune in live on Instagram Wednesdays and Saturdays to catch the stunning Maldivian sunsets from The Residence Maldives at Dhigurah (around 6pm Maldives time on Wednesdays) and The Residence Maldives at Falhumaafushi (around 6pm on Saturdays).
Momi Bay, Fiji
The Marriott Resort Fiji Momi Bay is located on the main island of Viti Levu along the Coral Coast. From the resort's webcam you can watch the serene lagoon waters, keep an eye on the overwater bungalows and beachfront bores, watch a calming sunrise, or catch one of Fiji's fiery sunsets. If you click on the play button on the right of the screen you can watch recent daily time lapse videos that will make your heart happy.
Queensland, Australia
On Queensland's Sunshine Coast, viewers can take a live look at the iconic Rainbow Beach, known for its striking natural beauty including rainbow-colored sand dunes, as well as Noosa Main Beach in Noosa Heads, one of the few beaches along Australia's coastline that faces north, and is popular among visitors for its gold colored sand, clear water, and National Park located adjacent to the beach.
Queensland's Gold Coast, there is a live cam on the iconic Surfer's Paradise Beach, a picture-perfect 3km strip of golden sand between Surfers Paradise and the Pacific Ocean and viewers can check out the idyllic Palm Cove Beach off of Cairns (the gateway to the Great Barrier Reef), featuring a sprinkling of islands on the horizon and a romantic Jetty.
Gold Coast, Australia
Australia's Gold Coast is home to a number of popular surfing competitions and is famous for its surfing beaches in Burleigh Heads, Snapper Rocks, and Surfers Paradise. Watch the waves roll in or the surfers at work (just remember the time difference) on any of these surf cams.
Victoria, Australia
The Nature Conservancy Australia offers both above and underwater webcams, allowing travelers to virtually explore the robust and diverse marine life of Pope's Eye within Port Phillip Heads Marine National Park at Port Phillip Bay in Victoria. Surfing fans may also enjoy watching the surf roll in on 13th Beach in Victoria on this surf cam.
Now who else is ready to hit the beach?