Planning a trip for an extended family is always a challenge. Where can you go that offers something for everyone? This is the challenge we faced when planning a trip to celebrate my in-laws' 50th wedding anniversary with 14 people, including six kids ranging from four to eleven. In addition to school vacation schedules that don't coordinate, we also had to deal with varying work schedules that would inevitably cut the trip short for some.
Ideally, we would go somewhere with a fairly short, direct flight from our homes in RI and FL. We decided on a family vacation in Costa Rica. Luckily for this trip, budget wasn't an issue (thanks Mom & Dad!) and we found a place that caters to all ages and is just far enough away to feel special…The Four Seasons Costa Rica at Peninsula Papagayo.
Four Seasons Papagayo Review
From our arrival in Costa Rica, we knew everything about this vacation was going to be first-class. We were picked up in an SUV offering free WiFi, bottled water, and cold towels (which we needed after traveling from chilly New England and arriving at the hot, non-airconditioned, but otherwise very nice, Liberia Airport.) They checked us in via a video Skype call in the car so that when we arrived on the property 45 minutes later, we were given a tropical fruit drink and brought directly to our room.
I was amazed by the size of the rooms and the screened-in terrace offering a couch, table and chairs, and ceiling fan — perfect for hanging out after the kids go to bed. To show the Four Seasons is not just for grown-ups, they welcome children with their own tropical fruit-scented amenities, a child-size robe, bath toy, and their name written above the tub or shower.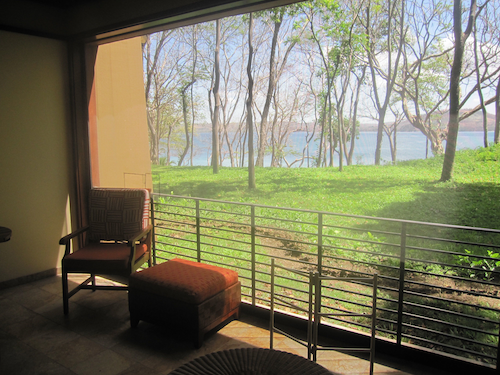 And the Four Seasons continued to cater to kids. Because we went during a popular school vacation break, they had set up their conference center as a gigantic game room and planned special activities for each day and evening. The kids enjoyed taking breaks from the sun by hanging out at the kids club, participating in a kids golf program, making s'mores on the beach at night, and, most of all, the "Dive in Movie Night." The younger ones got to watch Madagascar 3 while hanging out on rafts in the pool.
While we went on a few excursions including ziplining and visiting a national park, we spent plenty of time hanging out at the two family pools and two Costa Rican beaches. Playa Virador was equipped for swimming, with lounge chairs and calm, beautiful water. We didn't venture far into the water though due to warnings about jellyfish (and some serious jelly fish phobias.)
Over on Playa Blanca they offer watersports including paddleboarding, kayaking and paddle boats. We had a beautiful family kayak one morning exploring the cove. We did see plenty of little jellies in the water, along with some rays and even a baby shark when we were climbing out (more reason to stick to the pools.)
While the food at the resort is quite expensive, they do a good job catering to all palettes. They have restaurants specializing in Costa Rican food, Italian, seafood, steak, and sushi — most of which offer children's menus. My adventurous eater ate sushi or fish every day, but the rest of the kids loved the pizza and chicken fingers. We did enjoy Latin Night one evening, complete with Carnival dancers, but I would recommend skipping the expensive buffet and just enjoying the show from the pool area.
While so many of the services were first class, like "free" snacks and smoothie samples poolside (and a pool guy to clean your sunglasses,) I was disappointed that the hotel only offered free WiFi in the lobby and getting connected each day was a bit of a challenge.
One of my favorite things about the trip was having a chance to get away from cold, New England winter and sit gazing at the blue, blue sky, green coconut palms and natural wood in the architecture. But best of all was sitting by the pool and watching the howler monkeys swing through the trees. But be forewarned, when they start to make noise they are LOUD!! (Apparently, they are the loudest land animal in the world!)
The bottom line is that the Four Seasons at Peninsula Papagayo in Guanacaste, Costa Rica is a first-class resort in a beautiful location that is easy to get to and offers something for everyone. The downside is definitely the cost, but if you want a splurge, this is definitely a good choice. Someday I'd like to go back to Costa Rica and explore the Arenal volcano and Monteverde Cloud Forest — but when it is just the three of us that are more up for activity and adventure. Have suggestions? Please leave a comment and let me know about your favorite places in Costa Rica.
How we prepared for the trip: Since this trip was more about celebrating an anniversary and spending time with extended family that we don't see often, we didn't do our usual amount of preparation to learn more about the location, culture, food and history. Luckily, our tour guides on the Palo Verde National Park boat tour filled in a lot. Just last summer we traveled to Spain so going to Costa Rica helped us brush up on our Spanish (although every spoke English fluently) and my daughter did read a research book about Costa Rica and had in her mind what she wanted to do (mainly ziplining) and what animals she hoped to see.